Sandra Bullock Files for Divorce in Austin, Texas
Sandra Bullock
Files for Divorce
in Austin, Texas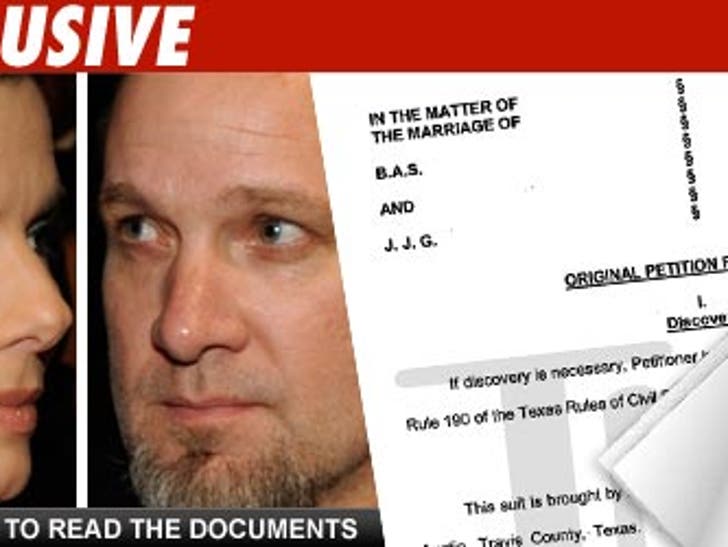 TMZ has learned Sandra Bullock filed for divorce in Travis County Court in Austin, Texas ... and the reason it didn't surface until now is because Sandra turned it into a puzzle.
The case was filed under Sandra's initials -- backwards ... B.A.S.
Jesse James was also identified by his initials -- J.J.G. Jesse's middle name is Gregory.
The document was filed April 23.
As for grounds of divorce, the petition says, "The marriage between Petitioner and Respondent has become insupportable because of discord or conflict of personalities that destroys the legitimate ends of the marriage relationship and prevents any reasonable expectations of reconciliation."
According to the docs, obtained by TMZ, "There is no child under eighteen years of age or otherwise entitled to support who was born or adopted of this marriage and none is expected."
According to the docs, Sandra is a resident of Texas. Jesse "is of legal age and agrees to proceed in Austin, Travis County, Texas."
According to the petition, the parties were married in 2005 "and have ceased to live together as husband and wife."
As for the firm Sandra hired -- Chaffe McCall -- she's used the firm in the past to litigate a tax issue. A lawyer in the firm claimed a man who set up fraudulent tax shelters had given Bullock advice, after her dad saw an ad for tax shelters in an in-flight airline magazine.