Arrest Warrant Issued for Lindsay Lohan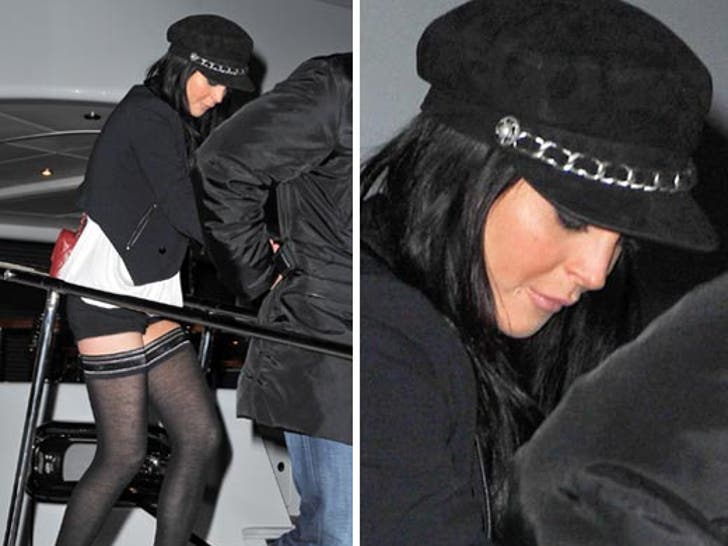 A judge just issued a bench warrant for Lindsay Lohan's arrest, after she failed to show up in court this morning ... and the judge says she has reason to believe Lindsay has a drug and alcohol problem.
Judge Marsha Revel scoffed at the notion that Lindsay's "someone-stole-my-passport" excuse was a justification for missing court.
Judge Revel set bail at $100,000 and said Lindsay can post bail and remain free until the next court hearing, IF she does the following:
- Drink no alcohol
- Wear a SCRAM bracelet
- Submit to random drug testing at least once a week
Lohan's lawyer, Shawn Chapman Holley, told the judge the story TMZ broke -- that Lindsay claimed her passport was stolen and she tried getting on a flight to make it on time but was turned away.
At one point Holley said, "I don't know what else to tell you."
But the judge wasn't buying it, saying "Actions speak louder than words." The judge seemed especially ticked at the photos shot last night showing Lindsay partying on a boat in Cannes.
Holley said there was no reason to require drug testing, but the judge noted that Lindsay was charged in 2007 with being under the influence of cocaine.

The judge said there is probable cause to believe Lindsay has violated her probation. If the judge determines Lindsay did indeed violate probation she could be jailed for 180 days.
And .... contrary to what Holley told the judge, cops in Cannes, France tell TMZ Lindsay Lohan did NOT report her "stolen" passport to them.
Lohan ... who we're told is flying back to L.A. tomorrow ... will likely be detained at U.S. Customs at LAX, then taken into custody and booked.
Hollywood's Beachin' Blondes!
The only thing hotter than a teeny-weeny bikini this summer is one of these smokin' blonde babes.
Anna Nicole Auction -- Who Wants a Pony?!?
For all you Anna Nicole Smith fans who were dying to get a hold of her life-sized bronze pony, showgirl Halloween costume or her 1992 Mercedes Benz ... now's your chance.
Julien's Auctions will be selling the Anna merch -- along with all sorts of other Anna-related goodies -- on June 26 at Planet Hollywood Resort & Casino in Las Vegas.
In the meantime, check out the pics ...
Guess whose pretty famous face got a nasty celebrity scramblin'!
What's the Big Frigin' Difference?!
Take an extra close look at the following photos and test your spotting skills!
**HINT -- There are THREE differences in the above photo!**