MJ Songs, Art and Photos -- Tale of Thievery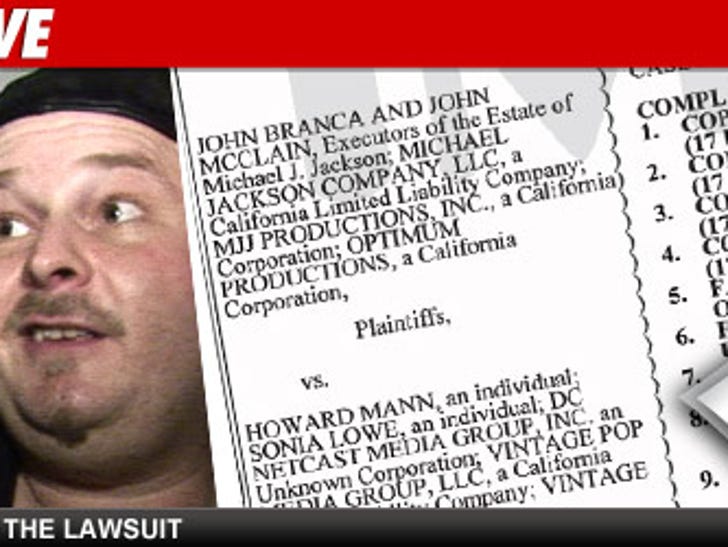 Katherine Jackson's business partner illegally made millions of bucks from Michael Jackson's music, photos and drawings -- this according to a lawsuit filed by MJ's Estate and obtained by TMZ.
The MJ Estate has sued Howard Mann -- the guy behind MichaelJacksonSecretVault.com -- claiming Mann has duped fans into believing his website was kosher ... when it was in fact, "rife with illegal uses of Michael Jackson intellectual property."
According to the lawsuit, Mann displayed "arrogant disregard" for the Estate's copyrights on all things MJ ... and wrongfully published clips, artwork and trailers from "This Is It" -- content from the "Thriller: 25th Anniversary Edition" CD and much, much more.
The Estate also accuses Mann of posting an "unreleased" MJ song called "Opis None" ... which in reality, was a remix of the song "Destiny" which The Jacksons released in 1979. The Estate claims Mann had no right to publish the song ... and the confusion he caused damaged the MJ Estate.
The Estate also claims Mann published several sketches that MJ drew himself ... including one titled, "Bubbles Chair" ... as well as a number of copyrighted photographs in Katherine Jackson's coffee table book, "Never Can Say Goodbye."
The Estate believes Mann hauled in more than $1.5 million in sales from the book in its first two days -- money that rightfully belongs to the Jackson Estate.
The Estate wants to recoup all of the revenues Mann raked in from the sale and publication of the Estate's property ... plus punitive damages -- which surely could be in the tens of millions.