Little Nicholas on 'Eight is Enough': 'Memba Him?!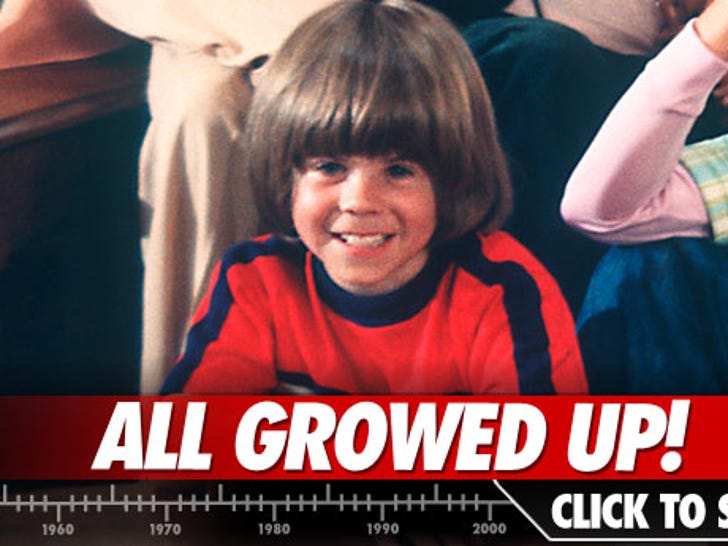 Britney's Risque New Photo Shoot!
Britney Spears is showing off some serious skin in the latest issue of OUT Magazine -- where she opens up about gay marriage, plastic surgery and why she's jealous of Rihanna.
Spears, who is one of the magazine's "April Ladies We Love" cover girls, says she models her career after Madonna, "No question. She is an amazing entertainer. Besides Madonna, I also admire Sarah Jessica Parker's career and her shoe collection."
For more from Britney, check out the full interview on OUT's website!
Schwarzenegger -- Face Off with Traffic Cop
It's barely been two months since his last run-in with the law -- but unlike the cruel parking ticket he got back in January, former California Governator Arnold Schwarzenegger got off this time with a warning.
Law enforcement sources tell TMZ, Arnold was driving around L.A. in his Porsche yesterday -- top down and everything -- and was eventually pulled over for an unknown traffic violation.
Thankfully, he's Arnold Schwarzenegger -- so he got off with a verbal warning and went happily on his way ... no citation, nothing.
Can you guess which red haired celeb took her adorable daughter for a play at the park yesterday?
Mel Gibson -- Guatemalan State of Mind
Mel Gibson looked relaxed in Guatemala today as TMZ broke the story that he'll be plea bargaining his criminal case.
TMZ broke the story ... Mel is in Guatemala on a charity mission to save the rain forest.
As part of the rain forest conference, Mel will climb La Danta, one of the largest pyramids in the world.
Mel will be returning to L.A. for Friday's court hearing where the plea bargain will be formally accepted.
'Idol' Finalists Move In to Bev Hills MEGA-MANSION
The top 13 finalists on "American Idol" have just moved in to a MASSIVE Beverly Hills mansion together ... a mansion that costs roughly $100,000 per month to rent.
The estate -- worth an estimated $12 million -- boasts 9 bedrooms, 9 bathrooms, a hot tub, pool, koi pond, game room with a pool table and one of the SICKEST VIEWS EVER. We're told on a clear day, you can see the ocean from the house.
The wannabes moved in on Friday ... and they'll stay there until they're voted off the show.
Janet Jackson's Sexy Tour Performance Pics!
Janet Jackson is back in control ... of her body!
While on stage in Chicago last night, the 44-year-old slipped into a sleek silver and black catsuit and showed off her incredible physique as she performed her greatest hits for her "Number Ones" tour.
Check out the gallery for a closer look at Miss Jackson's sexy new look!
What's the Big Frigin' Difference?!
We've hidden some very sneaky differences in the following photos for you to spot -- good luck!
**HINT -- There are THREE difference in the following photos!**
Sometimes being a superstar can be a real drag -- see which stars have crossed over to the other side.