Arnold Used Santa Monica Office for Romantic Liaisons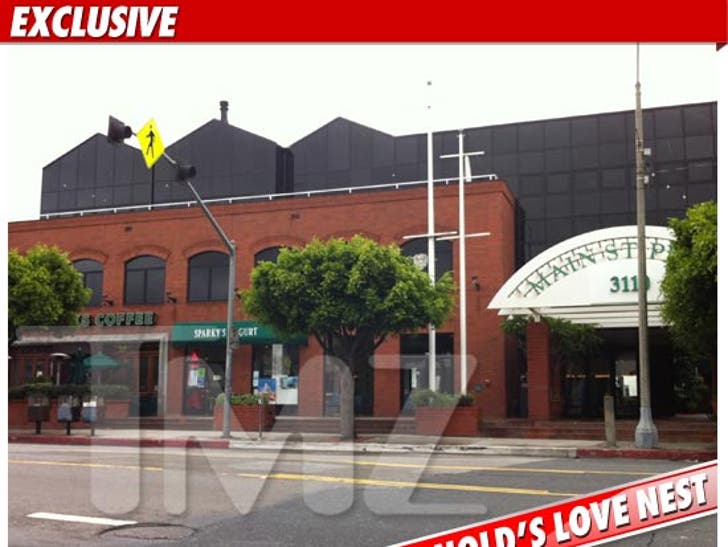 Arnold Schwarzenegger had numerous, late night rendezvous with various women at his Santa Monica office building ... and some of the women were mysteriously carrying legal-sized manila envelopes ... sources who were present tell TMZ.
Arnold has now come forward and revealed he did indeed have a baby with a member of his household staff approximately 10 years ago, and finally revealed the secret to Maria after he left the governor's office this past January.
TMZ heard the story of the baby last week, but members of Arnold's team threw up a wall and claimed ignorance.
Now our sources say there were other women -- at least two of whom repeatedly came to his office at around 1 AM with manila envelopes and would spend hours there. Sources familiar with the office when these women were coming in -- approximately 5 - 7 years ago -- say there were several bedrooms in the suite where they would go.
People familiar with Arnold's operation tell TMZ ... Arnold kept his home staff and business staff separate. The woman whom he impregnated was a member of his household staff.
Arnold's Oldest Daughter -- Dad, Let's Take a Walk
Out-of-wedlock baby-making ex-governor Arnold Schwarzenegger spent some quality time with his legitimate oldest daughter Christina in L.A. yesterday ... hours before Arnold publicly revealed he had been hiding a secret child from his family for nearly a decade.
Wonder what they talked about?
'American Idol' Finalists Visit Hometowns
The Top 3 on "American Idol" got to leave Hollywood this weekend -- and went for their big hometown visits, where the judges' song choices for this week's episode were revealed!
A tearful Scotty McCreery returned to Garner, North Carolina on Saturday for his bash and visited Lowe's, where he used to work as a cashier, before putting on a mini-concert for fans at Lake Benson Park.
Lauren Alaina had an emotional visit when she visited Rossville, Georgia, which was recently hit by a devastating tornado. Alaina visited a shelter at Cherokee Valley Baptist Church before a parade ending at Fort Olgelthorpe Lakeview High School.
Lastly, Haley Reinhart had a rainy visit to Deer Park, Illinois, hitting up Wheeling HIgh School, her alma mater.
Pruned People -- Guess Who!
These A-list celebs never forget their lines -- check out how they hold on to their SAG cards!
Guess Whose Gorgeous Gams!
Spring is in full bloom, which means pants are out and skirts and shorts are in!
Can you pair these lovely legs with the correct stars? Click on the gallery below to play along:
Audrina Patridge -- It Was Her Birthday
And yet she's the one that gave us a present ... by gallivanting around the pool at Wet Republic in Las Vegas yesterday.
Celebrity Bridesmaids -- I Do!
With "Bridesmaids" opening last weekend in theaters, we're taking a look at some famous faces who have walked down the aisle as bridesmaids for their own family and friends!
Britney Spears, Jessica Simpson, Jessica Alba, Kim Kardashian and more -- see which mega-stars worked it in a supporting role.
What's the Big Frigin' Difference?!
Focus in on these magical photos -- and see if your eyeballs are powerful enough to spot the subtle differences!
**HINT -- There are THREE differences in the above pictures!**
These daring stars have taken to the streets on two wheels and risked it all on a motorcycle!
B-B-B-B-B-Bad to the bone.
Celeb Card Sharks -- You Bet!
Don't let their good looks fool you -- these stars have some serious hustle when it comes to playin' poker!
Check out which stars know how to play their cards right!