Weiner Heckled as He Resigns From Congress
Anthony Weiner Heckled
As He Resigns From Congress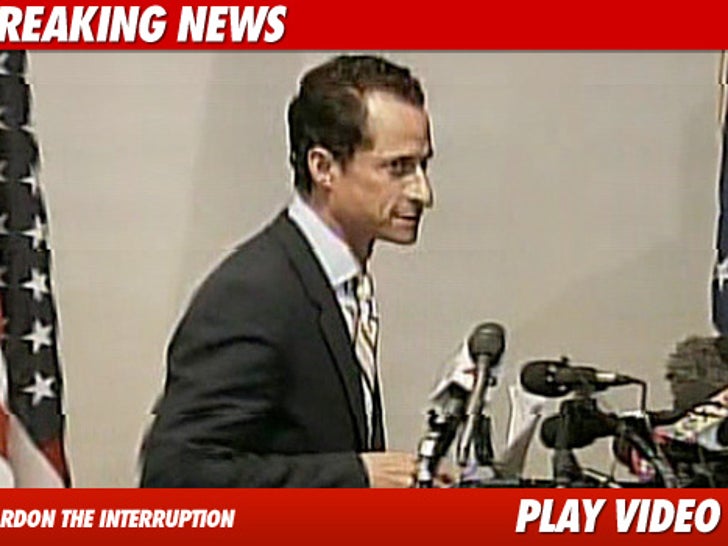 Anthony Weiner just resigned his seat in Congress, as people in the room heckled him.
Weiner apologized to his constituents and to his wife. He said he was announcing his resignation because of the distraction he caused.
When Weiner said he was resigning, applause erupted in the room, and hecklers began chiming in, making it difficult for Weiner to continue. One of the people in the room -- Benjy Bronk from the Howard Stern Show, screamed, "Are you more than 7 inches?" Another screamed, "Yeah, get out of here pervert."
As he walked out, one heckler asked, "Will you maintain your hot physique?"
Roast_Beef
Nice to see the House taking out the perverted garbage.
Jj
I remembered his speech on benefits for 9/11 first responders. Among other things, to ruin all his hard work with something so...stupid is a major disappointment.
Crystal
Why don't female politicians ever have sexual scandals?
Kathy
Sad case. Sad man. Looks like its going to be difficult for him--can't blame anyone but himself.
Celebrities Suck
good lord, why are people making it such an issue at least we all know he's normal. Most of the people that are yelling out are probably perverts themselves. "Let any one of you who is without sin be the first to throw the first stone"
jxtr
It's a shame that an ignorant person, or persons were shouting vulgar and inappropriate language during the press conference. This type of behavior is not funny and not warranted. This person(s) behavior demonstrates the stupidity in our society.