Lindsay Shuts Down Matt Lauer Interview IN HIS FACE
Lindsay Shuts Down
Matt Lauer Interview
IN HIS FACE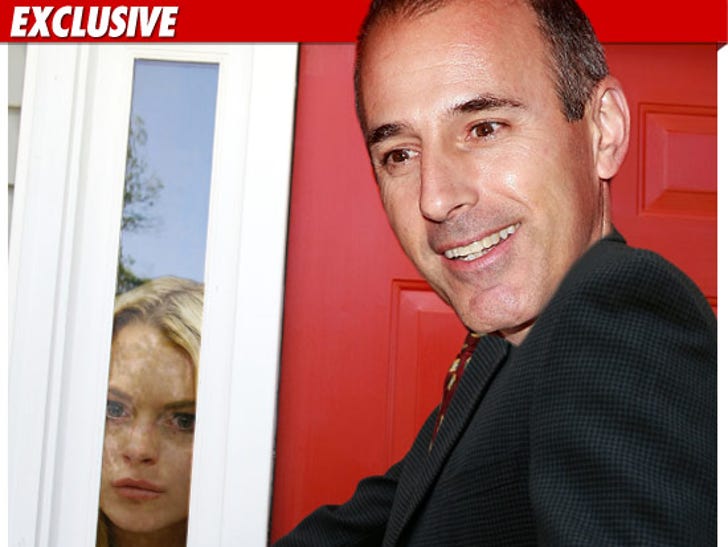 Lindsay Lohan pulled the plug on Matt Lauer last night, just before cameras were supposed to roll for her big sit-down interview.
NBC sources tell TMZ ... Lauer flew to L.A. yesterday, and showed up at Lindsay's Venice loft around 6 PM.
We're told Lindsay was actually in the makeup chair when things went south. Sources close to Lindsay tell TMZ ... Lauer's team blindsided them by saying the interview would be extremely lengthy because producers were planning to put it on "Dateline" as well as "Today."
Lindsay kicked up her heels, saying she was told it would only be a 15-minute interview, and refused to sit for anything longer. The two sides began arguing -- to no avail -- and then Matt just packed up and left.
We're told before Lindsay made her decision, she consulted her publicist, Steve Honig, who agreed it was not the right time to do a televised and in depth interview. Once Lindsay decided to call it off, Honig broke the news to Lauer.
Our NBC sources say producers made it clear to Lindsay and her people before Matt even got on the plane that the interview would be lengthy ... because it was servicing two shows.
Matt was not on "Today" today, and he's just about to land back in the Big Apple.
At least he got some AAdvantage miles out of it.