Young Jenny in 'Forrest Gump': 'Memba Her?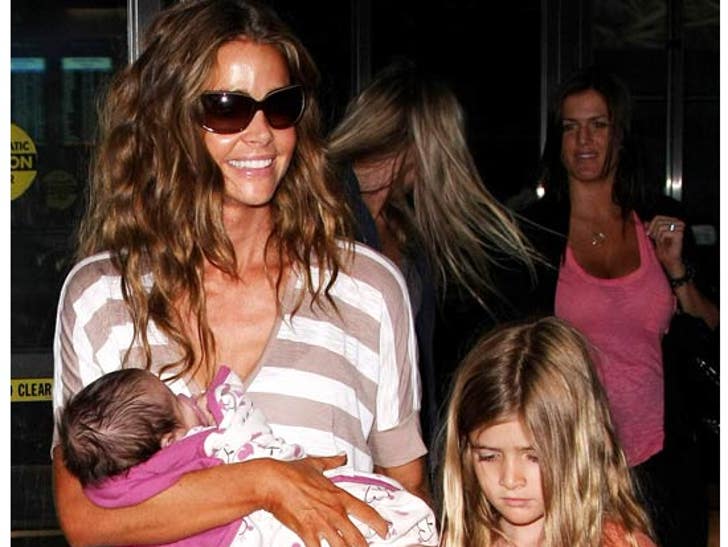 Inside Kim Kardashian's Bachelorette Party in Vegas!
Kim Kardashian and fiance Kris Humphries celebrated their bachelorette and bachelor parties last night in Las Vegas -- and we've got photos from inside both of them!
Kardashian held her girls night out at Tao Las Vegas, where she was joined by sisters Kourtney, Khloe and mom Kris, as well as celeb friends like LaLa Vazquez, Brittny Gastineau and Robin Antin. The groom-to-be's sister Kayla Humphries also attended.
Kris was close by, celebrating his night at Lavo Las Vegas with Khloe's husband Lamar Odom, Kim's brother Robert Kardashian and Kourtney's baby daddy Scott Disick. Also in attendance were some of Kris' New Jersey Nets teammates like Jordan Farmar.
The couple is set to marry August 20.
The only thing hotter than the temperatures on the east coast of the United States ... are these photos of Bar Refaeli lounging around in Italy in her bikini.
Kristin Cavallari -- Post Break-Up Ringless Walk
With her engagement to Jay Cutler called off, a ringless Kristin Cavallari walked her dog by herself in West Hollywood on Monday.
She may not have her man, but she's still got man's best friend.
Tiger Woods -- Cruisin' with the Kids
The same day he announced his split from his longtime caddie, Tiger Woods nursed his knee and leg injuries on a 61-foot yacht off the coast of Jupiter Island, Florida ... alongside his children.
The photos were taken on Wednesday -- while Tiger was aboard his ultra-private yacht named Solitude. The boat was reportedly custom built for Elin ... and cost somewhere in the neighborhood of $2-3 million.
It appears Tiger got to keep the boat.
As for the mystery woman on the ship -- we're told she's Tiger's nanny ... and not a love interest.
Sources tell TMZ the gang spent half the day fishing and diving off the boat ... because they can.
La La's eBay Auction -- How Do You Use This Thing?
La La Vazquez knew she wanted to use eBay to sell some of her stuff for charity -- but she didn't quite know what she was doing ... and now some of her belongings could be sold for pennies on the dollar.
La La is helping to raise money for Oxfam by selling off some of her amazing fashions -- such as a pair Giuseppe Zanotti black leather boots and a dress by Diane von Furstenberg.
The problem is ... La La didn't set a reserve price (a price that HAS to be reached during bidding or else the item would not be sold) for any of the items -- which means La La could be parting with some of her things for a fraction of what their worth.
Hey, at least it's all for a good cause!
Denise Richards Steps Out with Newborn Daughter
Little Eloise is making her first trip to NYC!
Denise Richards was spotted at JFK airport last night with her adopted baby and older daughters Sam and Lola -- giving us another great look at the newborn girl.
Denise recently opened up about her life with Eloise, saying she's "brought so much joy, and I love her to pieces. She is a cuddle bug. She loves being hugged and held. She's such a beautiful little baby and little soul."
Haunted 'Idol' House -- SOLD for $11.2 Million
The 15k sq. foot hotbed of paranormal activity where the kids from "American Idol" lived last season has a brand new owner -- a baby toy mogul who plunked down $11.2 mil on the L.A. mansion!
The "Idol" gang FREAKED OUT when a series of crazy "coincidences" occurred in the Bev Hills mansion back in March ... including a spooky spider infestation, flickering lights and one of the wannabes SWORE they saw a white sheet come to life and float down the stairs.
But now, the house has officially sold to a guy named Steven B. Dunn -- the guy who started a baby product company called Munchkin, Inc. ... which posted more than $100 mil in sales in 2008.
The house -- 9 beds, 9 baths, giant pool, marble all over the place and a motor court with enough room to park 100 cars -- was originally on the market for $12 mil ... so it appears Dunn got himself quite a deal.
Ya know ... except for the GHOSTS!!!!!!!