People vs. Dr. Conrad Murray -- AEG Live Prez Testifies
People vs. Dr. Conrad Murray
AEG Live Prez Testifies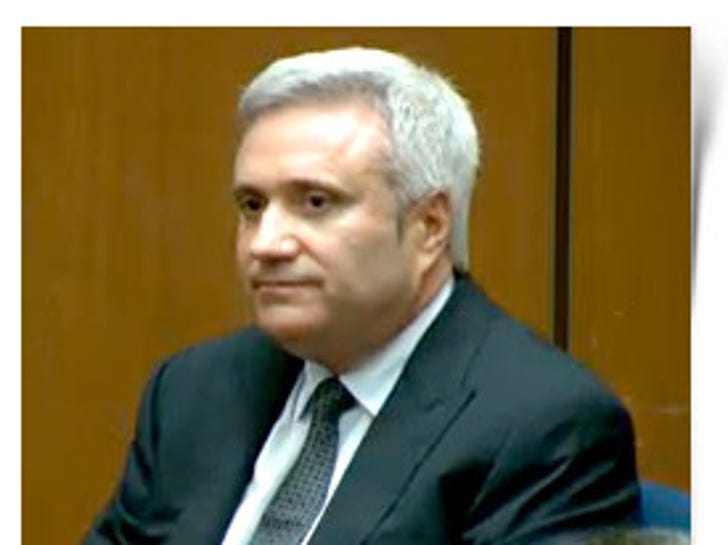 AEG Live President and CEO -- Randy Phillips Testifies
Updated 10/25/11 at 11:20 AM

Randy Phillips -- the concert promoter who bankrolled Michael Jackson's "This Is It Tour" -- told the jury, when AEG Live announced MJ's first 10 shows ... sales were through the roof.
Phillips said the demand for tickets was so huge, he called Jackson to see if they could add more shows.
Jackson agreed ... under 2 conditions... #1 -- he wanted a 16-acre country estate outside of London with streaming rivers and horses for the kids... and #2 -- he wanted reps from the "Guinness Book of World Records"present at the last 50th concert because he knew "it was a feat thatno other entertainer could beat" (Prince currently holds the record with 21 shows at the 02 Arena).
Randy's testimony could prove Michael Jackson was under extreme pressure to perform at the time of his death -- which eventually pushed the singer over the edge.
* Phillips told the jury when he first heard Jackson wanted his own personal doctor, he tried to convince the singer to hire someone in London, but MJ insisted on bringing Murray.
* Phillips said he had no idea there were issues with MJ's health until he got an email from director Kenny Ortega who told him MJ wasn't focused and was missing rehearsals.
* He then got a call from MJ's manager, Frank DiLeo, asking for a meeting to discuss MJ's health.
* During the emergency meeting -- held on June 20th -- Jackson assured Phillips he was ready to do the show ... telling him, "You build the home, and I'll put the door on it and paint it."
* Phillips said there were no discussions about any drug use and that Ortega was happy with the MJ's response.
* Defense attorney Ed Chernoff asked Phillips whether Jackson would have been responsible for any production costs had the tour been canceled ... Phillips answered, yes. But Chernoff was not allowed to get into the specifics. Earlier in the day, Judge Michael Pastor barred any discussion about the contract between AEG Live and Jackson noting, "Thisis not a contractual dispute. This is a homicide." Murray's lawyers were hoping to introduce the contracts to show that Jackson had more than just his reputation at stake.