Octomom Signs On For 'Self-Pleasure' Video
Octomom
Signs On For Self-Pleasure Video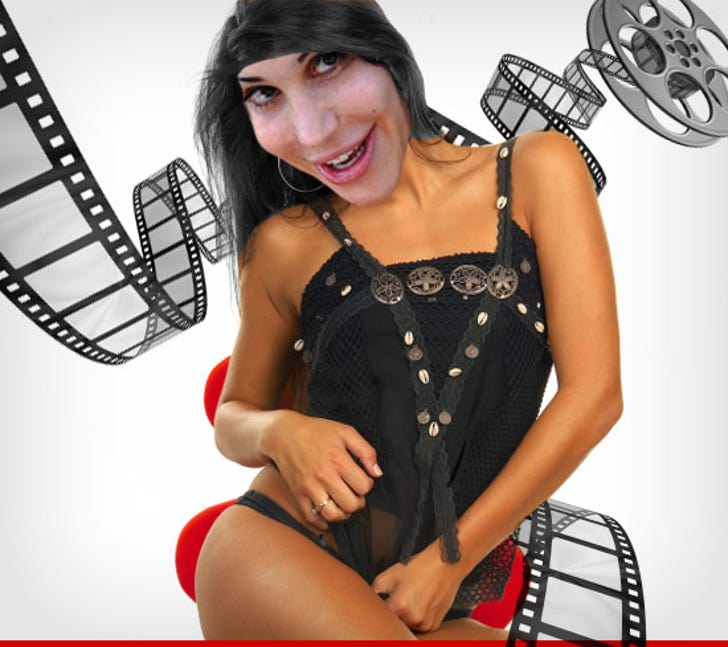 EXCLUSIVE
Octomom may be declaring bankruptcy, but she's still very much the master of her own domain.
Octo has signed on to do a masturbation video ... TMZ has learned. She's hooked up with an online adult entertainment company and will shoot the video this summer. It will be released shortly thereafter -- not a lot of post production, we're told.
You'll recall Octo once vowed never to do porn, but she's saying she doesn't consider a masturbation video porn, because it's a solo mission.
Maternity Suite is Sweeeeeeeeet
Jessica Simpson's new baby girl arrived in the lap of luxury ... 'cause the hospital she was born in offers the crème de la crème of birthing suites -- if you open your wallet wider than a birthing uterus.
We're told Cedars-Sinai offers several VIP suites for pocket heavy new moms, but it's NOT the $500k mentioned in some reports.
The BEST suite you can snag -- a 3-bdrm, 2-bath private pad within the hospital -- will run $3,784 a day ... more than what Beyonce spent -- $3,200 a night -- on her luxury, 4 bedroom birthing suite.
All that green goes a long way ... Jessica's suite boasts flat screen TV's, chilled juices on ice, muffin baskets, manis & pedis for wiped out new moms and a private dinner for two post-labor.
Simpson just delivered baby girl -- Maxwell Drew Johnson -- this AM, weighing in at 9 pounds, 13 ounces.
Can you guess which sultry stars have a leg up on the competition with these incredibly gorgeous gams?
"She's got legs, she knows how to use them."
Young Hayley Mills in "Parent Trap"
Before Lindsay Lohan starred in the '98 remake, Hayley Mills played the identical twins in the 1961 original film "The Parent Trap." Guess what she looks like now!
'90210' Star Trevor Donovan
Parties with 2 U.S. Presidents
What does Bill Clinton, the Dalai Lama and lonely teenage girls across the world all have in common?? They all LOVE "90210" hunk Trevor Donovan!!
The 33-year-old heartthrob glad-handed some of the most powerful people on the planet last week at the 12th World Summit of Nobel Peace Laureates in Chicago ... and TMZ has the pics.
Among the high profile guests -- Jimmy Carter, former President of Poland Lech Walesa, a couple of Kennedys, Rahm Emmanual and Sean Penn.


So why was Donovan there? Trevor recently told TMZ he's tight with the Kennedy family and has become very active in the political scene as a result. Plus, he's really, really good looking.
Got more questions? Trevor is ready to spill his incredibly sculpted guts about the party later TODAY when he appears on "TMZ Live" at 1:30 PM PDT.
Kardashians Meet "Kardashians"
Kim, Khloe and Kourtney Kardashian were recently skewered on "Saturday Night Live" ... but they clearly don't hold a grudge against their SNL doppelgangers!
See what happened when the girls came face-to-face with their doubles.
You know the deal... now get to huntin'!
**HINT -- There are three differences in the above photographs!**
He may look like a clean cut kinda guy, but this star of one seriously huge movie also has a massive tattoo!
Know who it is? Click to find out!
These stars are giving a whole new meaning to the term clubbing. Check out which celebs have hit the links and left it all on the green.
Barry Watson celebrates his 38th birthday last week -- and to celebrate, we're taking a look at what the cast of the feel-good family show "7th Heaven" looks like today!
Who still looks great ... and what are they all working on now?