TMZ Live: Arnold Schwarzenegger -- 60 Minutes ... of Delusion
TMZ Live
Arnold Schwarzenegger
60 Minutes ... of Delusion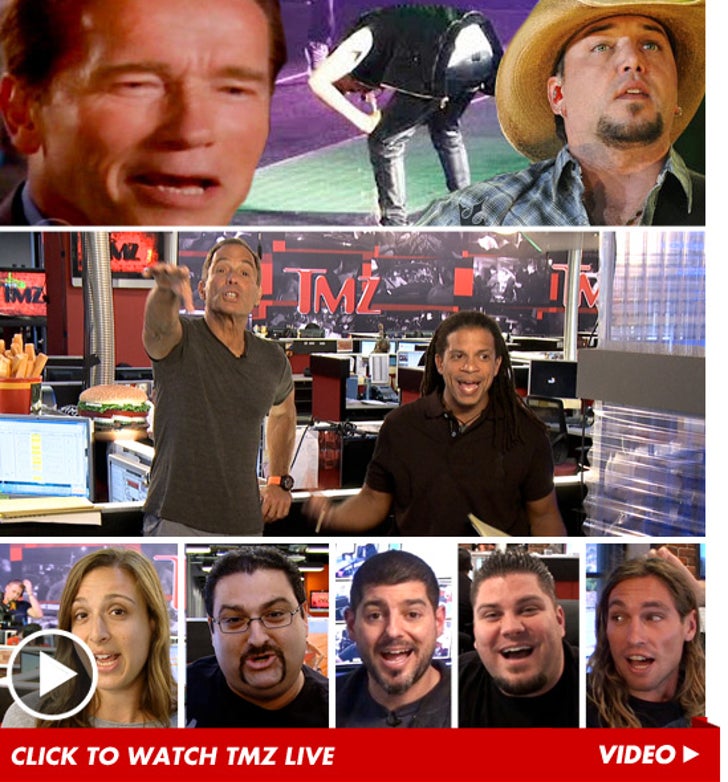 (0:00) Arnold Schwarzenegger's "60 Minutes" interview was an utter trainwreck -- and we're going to dissect his biggest lines of BS.
(8:10) The craziest story you'll ever hear about Paris Hilton -- which involves a fistfight and girl-on-girl action!
(10:00) Country superstar Jason Aldean drunkenly hooks up with an "American Idol" reject in front of everyone ... which is bad ... because he's MARRIED. Does he get a pass since he was wasted?
(14:00) Lindsay Lohan claims she was assaulted in her hotel room -- but her allegations could backfire on her.
(18:00) Rapper Gunplay calls in to explain BOTH brawls at the BET Hip Hop Awards ... and threatens 50 Cent ... and Gary!
(24:00) Justin Bieber throws up on stage ... and he blames it on milk. Charles isn't buying it.
(28:10) "Honey Boo Boo" got a raise! Max has a great idea for season two.
(34:00) Lil Wayne loves the way he came off in his crazy deposition tapes ... do you think a jury will feel the same way?
(36:00) Jason Russell -- the guy behind the "Kony 2012" video -- is finally opening up about his naked breakdown to Oprah Winfrey.
(38:00) Heidi Klum bodyguard has been around her kids so much ... it's one of the few cases in which it's NOT weird for him to be acting like daddy to her kids.
(40:00) We take your calls!