TMZ Live: Rihanna & Chris Brown -- Public Reunion & Betrayals
TMZ Live
Rihanna & Chris
Reunions & Betrayal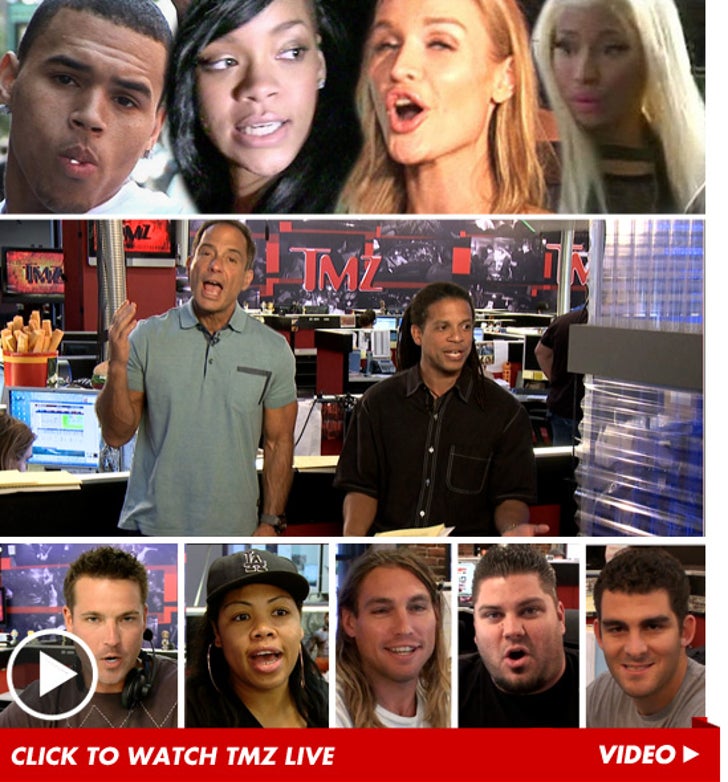 (0:00) Chris Brown and Rihanna went public last night in a big way -- flirting for everyone to see at a Jay-Z concert. Then hours later ... Chris dumped his girlfriend.
(10:00) Nicki Minaj vs Mariah Carey day two ... and now Barbara Walters is in the middle of the epic diva fight.
(14:10) Jim Lehrer got trampled by Mitt Romney and President Obama last night -- and it was painful. But there's one thing about it that Harvey like.
(18:00) "DWTS" alum Joanna Krupa joins the show to laugh off claims that she's a high-priced hooker. Her main argument ... she cost WAY more than $10k.
(24:00) Anderson Cooper GOES OFF on Star Jones for claiming he came out of the closet for ratings.
(27:30) It's about to get REAL heated in the newsroom -- because it's time to argue about one of the touchiest subjects of all ... obesity.
(29:00) AJ McLean loves ass.
(32:00) Justin Timberlake is unfairly tossed aside by the Shriners.
(35:00) Christina Aguilera's boobs -- so big, not even Hillary Clinton can look away.
(38:00) Rage Against the Machine's bassist thinks it's cool to pull his own teeth.
(40:00) We take your calls!