TMZ Live: Hulk Hogan -- Fighting Sex Tape Release
TMZ Live
Hulk Hogan
Fighting Sex Tape Release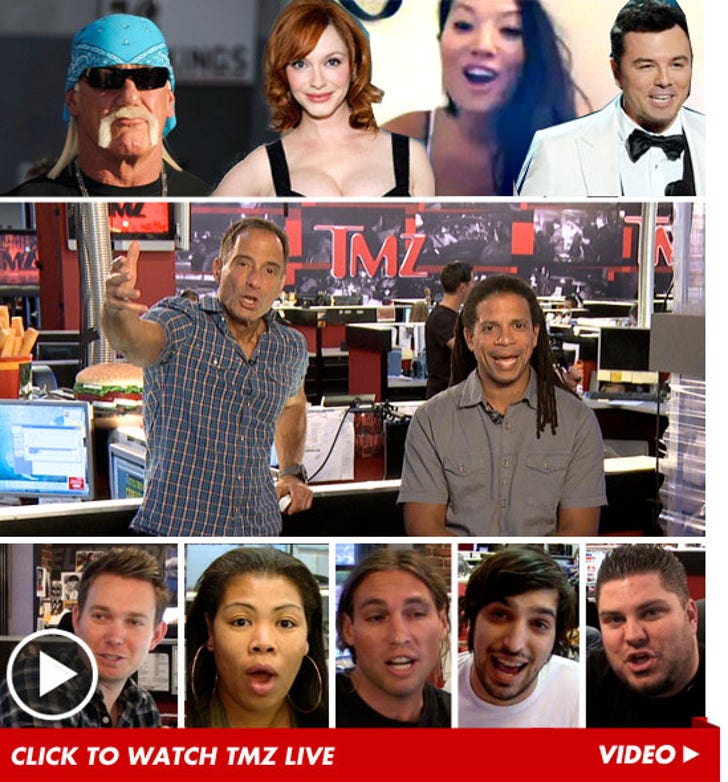 (0:00) Hulk Hogan's sex tape has been leaked ... but we can't show it to you because we don't want to get sued. But that doesn't mean Mike can't describe it to you ... and it's crazy.
(6:00) Is the "American Idol" feud between Nicki Minaj and Mariah Carey just a big hoax? "The Voice" star Cee Lo tells us he wouldn't be surprised.
(10:00) Chris Brown releases a bizarre video just one day after his breakup with Karrueche Tran -- in which he says he loves her ... and Rihanna. Evan says it's the Chris Brown publicity machine working overtime.
(15:00) "Mad Men" star Christina Hendricks refuses to field a question about her being a "full-figured" actress ... twice. Is she being a diva ... or just sick of talking about her famous, massive curves?
(18:00) Porn star Asa Akira takes time out of a porn shoot (seriously) to join the show -- to talk about Seth MacFarlane refusing her invitation to co-host the AVN Awards with her. You gotta see this ... it gets out of hand IMMEDIATELY.
(23:30) Bristol Palin has been targeted AGAIN by someone sending white powder to the "Dancing with the Stars" studio. Plus ... who's hotter? Sarah Palin or Julianne Moore.
(27:20) George Clooney and Stacy Keibler are not only together ... Harvey found out they now live together.
(29:30) A member of the Manson family has been granted parole -- and the only thing in between him and freedom is Gov. Jerry Brown. Should he be let free ... since he didn't actually kill anyone?
(32:10) Mel Gibson has a connection to "The Bachelor" -- too bad he's not going to be on the show. He just sold his Malibu mansion to the creator of the show.
(36:00) An artist paints with his own blood -- would you buy one of his paintings?
(40:00) We take your calls!