Manti Te'o Speaks -- I Knew It Was Crazy, But I'm Innocent
Manti Te'o SPEAKS
I Knew It Was Crazy ... But
I'm Innocent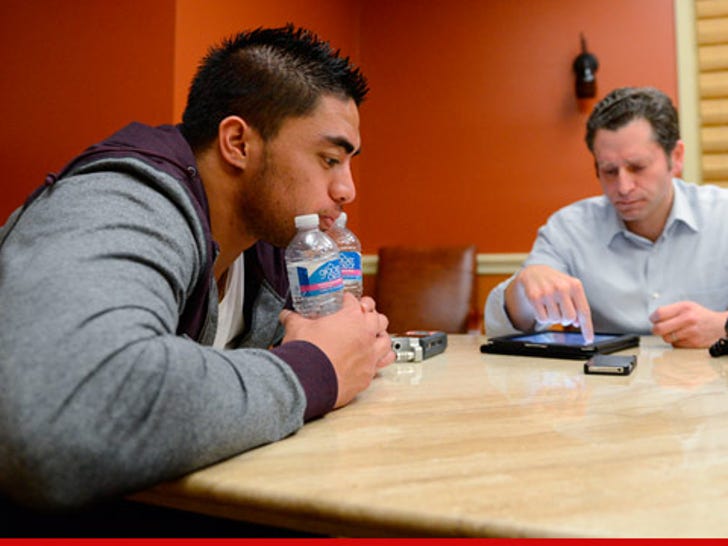 AP
Manti Te'o has broken his silence ... admitting he knew having a relationship with a "girlfriend" solely online was "crazy," insisting he was a victim, and revealing that the culprit has now apologized.
Manti gave an audio interview to ESPN -- the photo was taken in the middle of the chat -- in which he acknowledges Ronaiah Tuiasosopo tweeted him a full confession two days ago. You gotta love it ... even the confession was online. ESPN says it was followed up by a phone call.
Manti says, "I wasn't faking it. I wasn't part of this."
Manti says he now knows -- presumably from Tuiasosopo -- "Two guys and a girl are responsible for the whole thing." He says he doesn't know the identity of the second guy or the girl. He adds he didn't know for sure until Wednesday that it was all a hoax, when Tuiasosopo admitted it to him.
Manti explained why he lied to his dad and others, when he said or intimated he had seen the fictitious Lennay Kekua in the flesh. "I knew that -- I even knew that it was crazy that I was with somebody that I didn't meet, and that alone people find out that this gir who died I was so invested in, and I didn't meet her as well ... So I kind of tailored my stories to have people think that, yeah, he met her before she passed away so people wouldn't think I was some crazy dude."
As for one of the big questions -- why didn't he at least Skype -- he says he tried to speak with Lennay through Skype or FaceTime several times, but the person on the other end was in a "black box" and couldn't be seen. He says he also tried meeting her a few times in L.A. and Hawaii, but she kept canceling.
And this is a little weird ... Manti says Lennay once asked him for his checking account number so she could send him money. He did not provide it. Still, no suspicion.
Manti says the fictitious relationship was not a full four years -- they would take breaks, but it got intense after she said her father had died.
He says things got crazy after Lennay's fake car accident when she was in the hospital, and he could only hear her breathing over the phone -- "I slept on the phone with her every night ...the only thing that could help her sleep was if I was on the phone."
As for why he didn't visit her in the hospital, he says, "It never really crossed my mind. I don't know. I was in school."
As for why he didn't attend her "funeral," he says, "Her mom told them [Lennay's family] they did not want me to come," adding, "I didn't want that to be the first time that I saw her was laying in a coffin."
Manti says on December 6 -- three months after Lennay had supposedly died -- a woman called from the number Lennay had used, saying, "Manti, it's me." He says that was the first time it was apparent to him -- he had been scammed.
Manti says he doesn't hold a grudge -- "I don't wish an ill thing to somebody. I just hope he learns. I think embarrassment is big enough."