Donald Trump Facebook Ban Upheld, He Responds with Fury
Donald Trump
Facebook Upholds Suspension for Now
He Responds w/ Indignation
8:46 AM PT -- Trump himself has now responded to the news that he'll be off Zuckerberg's platform for the time being -- and he sounds just as feisty as ever ... saying he'll be back one way or another.
DT issued a statement, writing ... "What Facebook, Twitter, and Google have done is a total disgrace and an embarrassment to our Country." He adds, "Free Speech has been taken away from the President of the United States because the Radical Left Lunatics are afraid of the truth, but the truth will come out anyway, bigger and stronger than ever before."
Trump goes on to say this, "These corrupt social media companies must pay a political price, and must never again be allowed to destroy and decimate our Electoral Process."
While Trump isn't back on any of the big tech platforms just yet -- he did launch his own blog, of sorts, Tuesday ... where he can get his message out. It's called, "From the Desk of Donald J. Trump."
Donald Trump's Facebook ban has been upheld, but it may not be forever.
The Facebook oversight board has said the former Prez is persona non grata on its platform. Now here's the caveat ... the board decided Facebook -- i.e., Mark Zuckerberg -- can lift the suspension 6 months from the date of suspension.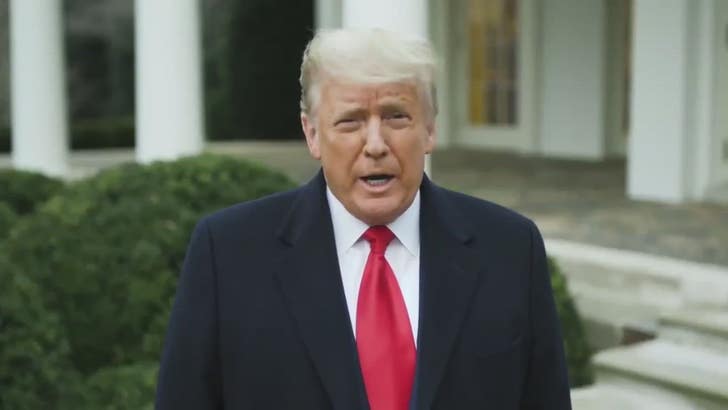 1/6/21
Trump was banned from Facebook January 7 ... the day after the Capitol insurrection. Facebook determined Trump's incendiary comments contributed to the riot. Zuckerberg posted that there was too great a risk to America if Trump stayed on the platform.
That means Trump could hop back on the platform within 6 months.
The oversight board was appointed with members who are not affiliated with Facebook, including the former Prime Minister of Denmark. But, come 6 months from now, the ball will be in Zuckerberg's court and he can make the decision to reinstate Trump.
Trump has been relatively silent since he left office, largely because he's been banned from numerous platforms.
Originally Published -- 6:11 AM PT