US Open Winner Coco Gauff All Smiles After Big Win, Celebrating With 'Sleep'
Coco Gauff
Cheery After US Open Win
It's Finally Nap Time!!!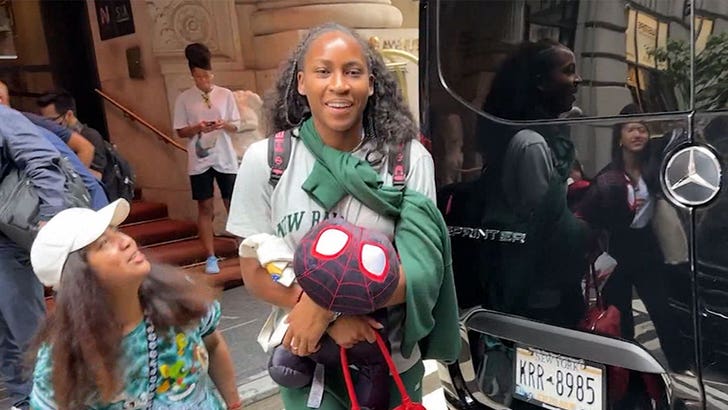 TheImageDirect.com
US Open champ Coco Gauff still has a massive grin on her face after winning the big tourney, but she won't be celebrating with a huge bash ... just a bunch of zzzz's.
The 19-year-old pro seemed to be in a great mood Monday, stepping out of her NYC hotel room just days after striking gold at this year's big event. Coco stopped to snap a pic with a fan while jumping in a waiting car with a Miles Morales plush in her hand.
Of course, Coco was asked about her post-win plans, but the only thing on her mind is heading home and climbing in bed for some sleep ... sounds like a perfect idea.
Coco's been on the tennis court for years and turned pro back in 2018. She's ranked number 3 in the world in singles tennis and number 1 in doubles -- in other words, this weekend's big win was a long time coming for the teenager.
As we reported, Coco had her semifinal match delayed by a protestor who glued his bare feet to the concrete floor of the stadium ... taking about 49 minutes of attention to remove him before Coco could continue her match.
She even had some serious support from Justin and Hailey Bieber in the 3rd round, who were cheering her on from their box seats. After that match, Coco told an ESPN reporter, "I definitely saw who was there. I thought, 'I cannot lose in front of Justin Bieber.'"
Hey, she certainly didn't lose -- Congrats, Coco! And, sweet dreams!