Machine Gun Kelly Gets in Heated Confrontation With DJ Kerwin Frost
Machine Gun Kelly
Heated Exchange With Kerwin Frost
... Side of The Road Rage!!!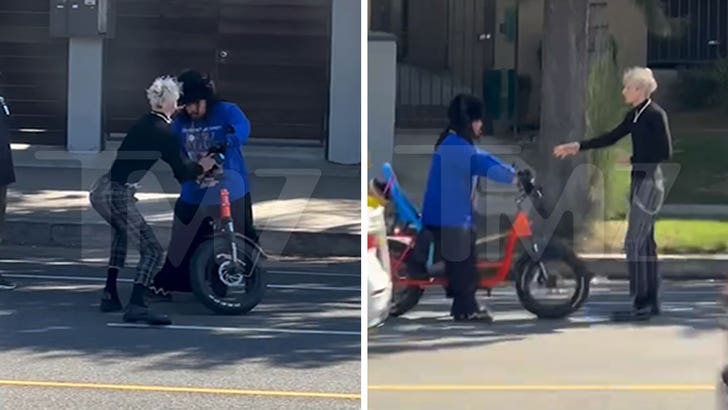 TMZ.com
Machine Gun Kelly got into a heated confrontation with DJ Kerwin Frost on the side of the road ... and the pointed exchange is all on video.
A witness tells us MGK was riding shotgun in a Rolls Royce in Sherman Oaks Tuesday when his driver pulled over ... allowing MGK to hop out and confront Kerwin, who was riding an electric bike.
In video, obtained by TMZ, MGK gets in Kerwin's face as he tries to ride off on his bike, blocking his path and leading to some verbal sparring ... though it's unclear what either was saying.
Ultimately, cooler heads prevail ... and the two sit down on a curb to talk things out.
We're told MGK then got back into his car, and Kerwin hopped back on his bike ... and they both went their separate ways. It's unclear what happened leading up to the confrontation ... or if MGK and Kerwin have any sort of beef.
We reached out to reps for MGK and Kerwin ... so far no word back.