'Killers Of the Flower Moon' Star Lily Gladstone Pickets Amid Film Release
'KOTFM' Star Lily Gladstone
Picketing for SAG Amid Film Release ...
To Hell w/ the Oscar Buzz!!!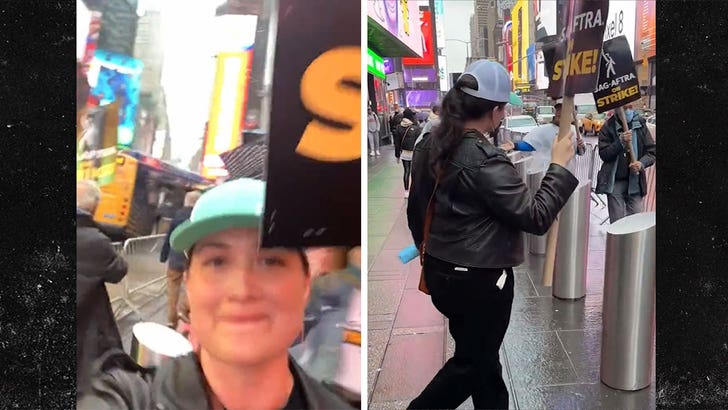 X / @/lily_gladstone
Lily Gladstone is the talk of the town right now with her Oscar-buzzy turn in Martin Scorsese's latest gem -- but in the midst of her film's release ... she's fighting the power.
The actress was hitting the streets in NYC Friday, where she was picketing with other fellow SAG-AFTRA union members amid the continued strike -- and she seemed to have a really good attitude about it ... busting a move and even recording herself cheesin' along the way.
It sounds like she was getting some support from locals there on the ground, with truck drivers and other passersby honking their horns in support. Her caption is pretty telling too -- as are all her other Twitter posts, which speak to the need for AMPTP to strike a fair deal.
Lily writes, "Hold the line. (It's okay to dance while you do it.)" ... and later adding, "The solidarity is real ... Your union, my union!" Of course, she had SAG signage as well.
What's wild about this is that 'Killers Of the Flower Moon" -- in which she stars opposite Leonardo DiCaprio and Robert De Niro, and truly holding her own -- hit theaters this weekend ... but she unfortunately hasn't been able to do any press for it 'cause of the strike.
Rather than hide away, however, she's showing where her priorities lie ... with her union. What's also notable is that her performance in 'KOTFM' has launched her as a frontrunner for Best Actress at next year's Oscars ceremony -- but she looks like a total normie here!
If you haven't heard about her yet, you're bound to in the coming months ... LG's a tour-de-force in this Scorsese flick, and she's almost certain to become a huge star in Hollywood.