Scorsese Uses 'Short-Hand' with De Niro, 'Long-Hand' with DiCaprio
Martin Scorsese
Easy Talkin' to De Niro ...
DiCaprio Says His Talks are 'Long'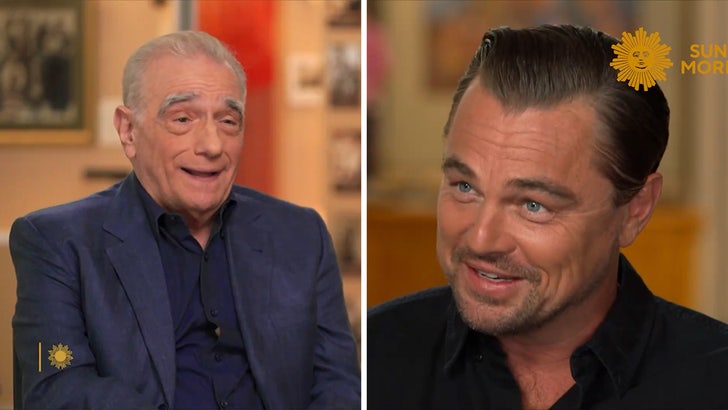 CBS Sunday Morning
Martin Scorsese's two golden boys are finally coming together on the big screen -- but it sounds like he can communicate a little easier with one versus the other ... guess who.
Leonardo DiCaprio revealed the on-set dynamic between the iconic director and his longtime collaborator in Robert De Niro -- who's stars opposite Leo in their new flick, 'Killers of the Flower Moon,' the first time they'll have acted in a Scorsese flick together.
It's a big deal seeing how Marty has used both dudes in a number of his films -- back in the 20th century ... Bob was MS's leading man. Post-2000, LDC took up that mantle.
But in terms of who Scorsese appears to connect with more ... Leo says there's no question, it's De Niro. Watch how he described their chats during a sit-down with CBS Sunday Morning ... he says they almost have their own secret language, with nods and gestures.
He says it's almost like a short-hand they have with each other -- whereas Leo says him and Marty have very long, drawn-out talks ... so yeah, Bob and Marty's connection is unmatched.
The master himself confirmed Leo's account ... saying he does, in fact, have "long-hand" with the younger actor. It makes sense when you think about -- fact is, Marty and Bob have known each other dating back to childhood ... so they're thick as thieves and then some.
It'll be fascinating to see them act alongside each other when the film drops next week. De Niro's obviously a lot older now -- and Leo's no spring chicken either. Still, they look to be in peak form when it comes to their chops ... and the reviews for this one are stellar.
Now the question ... who's the better actor historically??? Kidding, we ain't going there. 😅