Let's Get This Party Started: Top Stories for Wednesday 06/07/06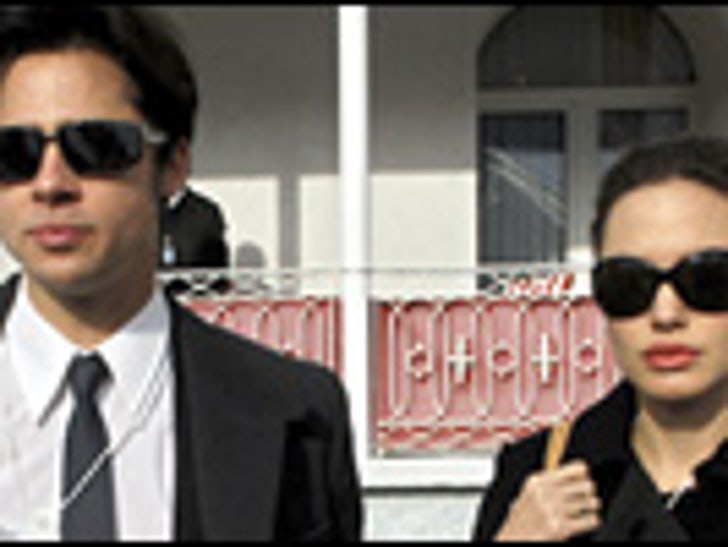 One Picture Worth Many Thousand (Legal) Words and $10 Million
Leaked photo of Baby Brangelina causes furor
Lawyers for People magazine have demanded that websites immediately remove the world's first glimpse of Brad Pitt and Angelina Jolie's child Shiloh Nouvel.
On Tuesday, a photo of Pitt and Jolie gazing beatifically upon their rather irresistibly cute daughter popped up on several Internet outlets. The picture, however, appeared to be on the cover of HELLO! magazine, which reportedly nabbed the British rights to the child's first photographic appearance. The leak, naturally, did not sit well with People, which had paid a reported $4.1 million for the privilege of showing the snaps in the U.S..
Moreover, the New York Post's Keith Kelly reports this morning that HELLO! paid over $3 million for the British rights and that total worldwide privileges might eventually top $10 million for the pictures. Kelly adds that People, with its reported $4.1 million bid, beat out Us Weekly and OK! by a very slender margin, and that People offered $5 million for global rights but were turned down. Getty Images, which would normally take a 15 percent cut for such brokering services, is waiving its fee in this auction.
Piven Goes Boom! in Manhattan
Entourage star hugs it out with Kurkova, not so with Dorff
There was no shortage of testosterone coursing through Jeremy Piven's veins Monday night in New York.
At the Council of Fashion Designers of America Awards gala at the New York Public Library, which he hosted, Piven engaged in a mating dance with Czech supermodel Karolina Kurkova that, according to Rush & Molloy, "was a bit like watching the band geek pick up the cheerleader." The not-very-tall Piven and the very-tall Kurkova apparently engaged in such time-worn flirtation techniques as flexing their muscles at one another, making funny hand gestures, giggling wildly, and, appropriately enough for the man who plays agent Ari Gold, giving each other little hugs.
This episode apparently inflamed Piven's plumage as the Entourage star nearly came to blows at Bungalow 8 with the even less vertically gifted Steven Dorff much later in the evening. According to this morning's Page Six, Dorff cut Piven's place in line for the boys' room, whereupon Piven challenged Dorff with the immortal words, "Yo, what are you doing? You know you don't need to cut the line!" After exchanging the usual taunts about each other's careers ("You're a has-been", "You're only on TV!") the two were separated and order was restored.
Attempts to seek comment from Piven's rep Siri Garber were fruitless, as she actually dropped him as a client two days ago.
Brit & Kevin Divorce Drama
Split seems imminent – or does it?
The end of all days may have passed yesterday, but the end of the Federline-Spears union may be near. According to this week's issue of Us Weekly, Britney Spears and Kevin Federline are as close to splitting as ever, and that the pop star has hired a divorce lawyer. "We're hearing that Britney is very emotional," reveals an editor on extratv.com. "Our sources tell us she will file for divorce eventually." (This after a British tabloid reported Sunday that divorce papers were all but filed.
According to Us, however, the Spears family is bracing for the worst, enlisting the services of a "Christian life coach" to help Brit through the decision-making process.
Nicole and Keith's Stealth Wedding Tactics
Kidman reserves all of Sydney's choppers for a day
Nicole Kidman and Keith Urban are going to rather extensive lengths to keep the paparazzi away from their June 25 wedding, according to the Daily Telegraph of Australia.
In addition to holding the wedding at night, as reported earlier, the couple will not be mailing paper invitations, nor will invitees be given the location or directions. What's more, Kidman will be releasing her own footage and photos to the press shortly after the ceremony, and she's reported to have spent $300,000 renting out all the helicopters in Sydney to thwart aerial lensmen.
Jessica Alba Fits The 'Bill'
Banks joins production as Lohan exits
Lindsay Lohan may have walked off the set of the independent feature Bill because she thought she was too big for it, but her colleague and fellow starlet Jessica Alba evidently does not. Variety reports today that Alba has joined the cast of Bill, which stars Aaron Eckhart as a fed-up cuckold who finds redemption in a saleswoman (Alba) and mentoring a troubled teen (formerly Lohan).
The 40-Year-Old Virgin's Elizabeth Banks has also signed onto the project as Eckhart's unfaithful wife.
Trump Brings Monopoly to Primetime
It always seemed that The Donald was somehow playing with Monopoly money. Now, according to today's Variety, he and a few lucky contestants will be – in a primetime reality series.
In his first foray outside the "The Apprentice," Donald Trump will be executive producing a reality version of the venerable Hasbro board game. Details are scarce, but the speculation is that players will gather properties – perhaps Trump's own – and improve them in order to help sell them. No network has picked the show up as yet, but Trump and co-producer RJ Cutler ("The War Room") are shopping it now.
No word yet either on whether the excellently-coiffed mogul will appear on the show.
Katharine McPhee Gets Her Deal
It's now official: As TMZ first reported Monday, 'American Idol' runner-up Katharine McPhee, who lost out to Taylor Hicks, has signed a record deal with Clive Davis and 19 Recordings Unlimited. Her first recording, "Over the Rainbow" paired with the largely unlistenable "My Destiny," will be released in stores June 27.
Hicks has already signed his deal with RCA. And even though she came in second in the competition and in the deal-closing, "It would really just be silly to feel bad for me at this point," says McPhee to the AP. "I got a record deal, a new car."