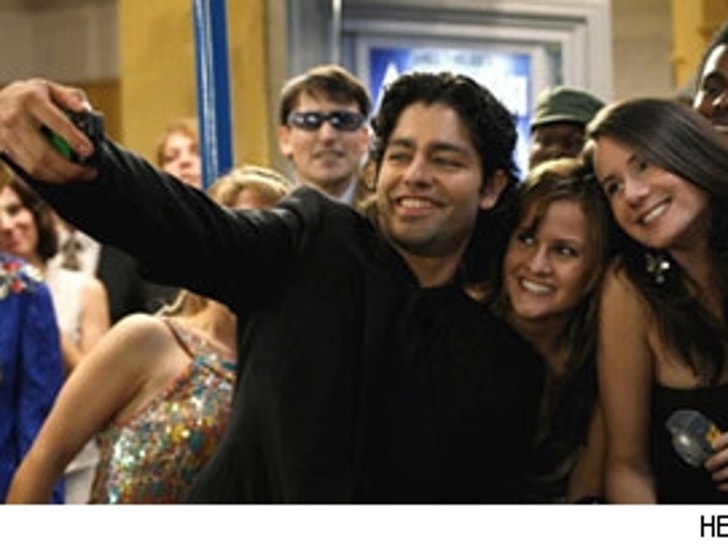 Last night's season premiere of 'Entourage' had, as usual, plenty of references to life in Tinseltown: Ari's menu choices at the Palm, James Cameron threatening re-shoots the day after a premiere, Jimmy Woods with a blonde bimbette half his age. TMZ takes a closer look to see how well the art of 'Entourage' imitates Hollywood life.
ART: Financially strapped superagent Ari tells Mrs. Ari that he's saving money by ordering "the Gigi salad" rather than the lobster during four-times-weekly dinner visits to LA's Palm restaurant. How much money is Ari really saving the Gold family?
LIFE: A lot. The Gigi salad - a chopped salad with shrimp and bacon known simply as "the Gigi" to regulars - costs $13 at dinner. The lobster, at today's market price ($22 per pound) for a four-pounder (the smallest size available), would set Ari back a whopping $88.
ART: James "Jimmy" Woods appears in last night's episode as his cantankerous self, accompanied by a very blonde, very buxom, and seemingly very young piece of arm candy. Who is Woods' real-life paramour?
LIFE: In this case, creepily enough, art is life: The 59-year-old Woods' girlfriend in the show is, in fact, his real-life squeeze, 20-year-old Ashley Madison, the daughter of one of his golfing buddies. "This is my whole entourage right here," he told the New York Daily News' Lloyd Grove at the New York premiere of the show, referring to Madison, with whom he walked the red carpet. "What more do I need?"
ART: James Cameron, who plays himself directing Vincent Chase (Adrian Grenier) in the show's fictional production of 'Aquaman," warns Vincent on the red carpet that he better not stay out too late because he might have to do re-shoots in the morning if the picture bombs, to which Vincent replies, "He's not joking." Has Cameron ever actually done re-shoots after a premiere? We made a call to Cameron's assistant, but haven't heard back yet.
LIFE: An HBO spokesman says that he's not aware of any specific instance of Cameron reshooting a film after the premiere, though it has been known to happen. And for the record, Cameron is not directing Aquaman, not on film or on television.
ART: While deciding who Vincent should bring as his date to the Aquaman premiere, Ari derides Vinny for having had, ahem, relations with every girl "west of Sepulveda." So what's west of Sepulveda, anyway?
LIFE: Everything west of Sepulveda (that's Se-PUHL-ve-da, not Se-puhl-VEY-da, for all you out-of-towners) Boulevard in LA is what's known as West LA, or the west side: beach towns like Santa Monica and Venice, and the tony hamlet of Brentwood. According to an HBO spokesperson (and a native Angeleno), there's no particular stereotype attached to girls who live west of Sepulveda, but it does represent a pretty wide swath of femaledom.
ART: In several instances during the episode, Ari is ridiculed (by the boys, by James Woods, and by himself) for opening up his new offices in West Hollywood. Why all the hate for the neighborhood also known as WeHo?
LIFE: Almost all the major agencies - including Endeavor, the agency that employs Ari Emanuel, the superagent upon which Jeremy Piven's character is based - have their offices on Wilshire Boulevard in Beverly Hills, so having to set up shop in West Hollywood, which is arguably trendier but certainly less gilded in character, would represent a very public step down for Ari.