How to Make People Care About Your Baby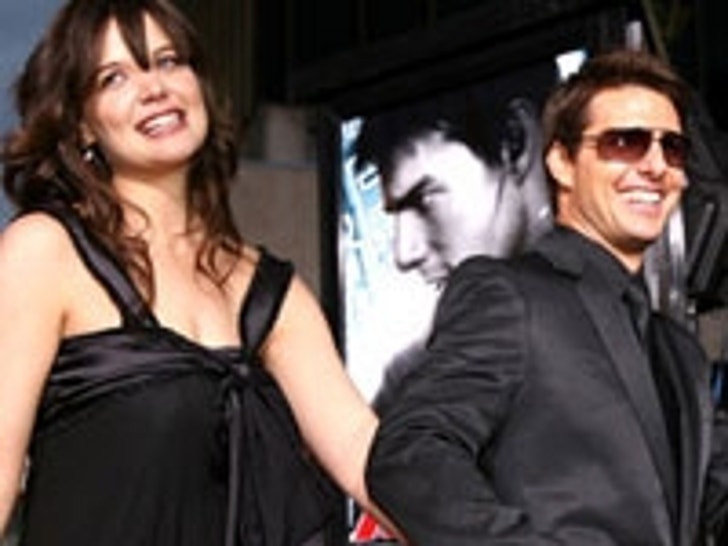 Did you know that Matt Damon's wife gave birth last week? How about Jack Black's? Well they barely registered with us and the paparazzi certainly didn't swarm the hospitals looking for the first glimpse of Isabella Damon or Jack Black's as yet unnamed son.
So if you're a pregnant celebrity, and you want to your new born child to help bump up your Q rating, what can you do? Here are five things you can do to help make the birth of your child the next cover of People magazine:


1) Time the birth of your child with the release of your movie
Suri Cruise was born on April 18 of this year, just three weeks before Tom Cruise's "Mission: Impossible 3" hit theaters. During the press tour, Cruise talked more about Katie and the baby-to-be than he did the movie.
When Katie finally did pop Suri out, photogs were on high alert all across town: at Cruise's house, at area hospitals, and the Scientology Celebrity Centre.
The birth was a big deal, but the movie disappointed at the box office. You win some, you lose some.
2) Flee the country
This especially works if no one has heard of the country you go to. For Brad Pitt and Angelina Jolie, it probably didn't matter where they had their baby. When good looking people mate, there will always be an audience for it.
But by taking refuge in Namibia, Brad and Angelina ratcheted up the excitement over the first baby pic to a new level. People magazine secured the North American rights to the first photos of Shiloh Nouvel Jolie-Pitt for a reported $4.1 million.
3) Have a fashionable pregnancy
There aren't too many women more stylish than Gwen Stefani. The No Doubt rocker, married to Bush front man Gavin Rossdale, was photographed all over town looking just as stylish as ever. When Kingston James McGregor Rossdale finally appeared, he was just another great accessory for the most fashionable woman in rock music.
4) Be part of a super duo
Chris Martin and Gwyenth Paltrow. Ben Affleck and Jennifer Garner. Matt Damon and ... um, what's her name?
The only thing bigger than one celebrity having a baby is TWO celebrities having a baby. Think of it as a math equation: Her fans + his fans = a lot of fans.
For the record, Matt Damon's wife's name is Luciana.
So yes, it helps if both mommy and daddy are both celebrities. Except...
5) When it comes down to it, only the mom really matters, aka "The K-Fed Rule"
If Britney Spears is involved, all bets are off. The same will probably hold true if such paparazzi favs like Lindsay Lohan, Jessica Simpson and (God forbid) Paris Hilton ever get pregnant.
So using this formula, our idea for the biggest possible celebrity birth would be George Clooney and Paris Hilton (nicknamed, "Plooney") having their baby in Togo, a small country in Western Africa, on the red carpet during the premiere of "Ocean's 13."
Now that's a celebrity birth!