The Music Goes On Without Britney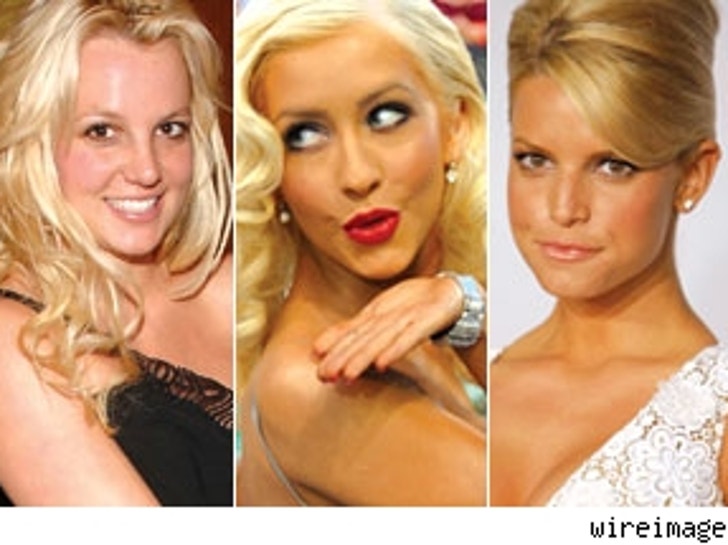 Six years ago teen pop ruled the music universe and Britney Spears had the world eating out of the palm of her hand. Now, following her tragic interview with Matt Lauer on "Dateline," she has the world wondering what went wrong. With the hair, the makeup, the outfit and her "country" demeanor - Britney 2.0 is not your kid sister's pop princess!

While Brit has been holed up in her Malibu mansion making babies with 'the Fed,' the rest of her teen pop peeps have been hard at work and will see new albums released in the upcoming months. Check out what your favorite pop idols have been up to as Britney's music career takes a pregnant pause.
Christina Aguilera
From the beginning, she was labeled Britney's biggest competitor. While the former Mousketeer has always lagged in sales and popularity to Spears, she does have the pipes and the Grammys to back up her talent.
Though Britney has endured a very public and high profile marriage, Christina took a more low key approach and stayed out of the spotlight while dating and marrying her husband Jordan Bratman. As Britney awaits the arrival of her latest tater-tot, Christina has a hot new single, "Ain't No Other Man" burning up the charts and a double album, "Back to Basics," coming out on August 15.
Justin Timberlake
Britney's former boyfriend, Justin Timberlake, enjoyed success as NSYNC's frontman and went on to more fame and fortune as a solo artist. His 2002 solo debut cd "Justified" sold over 3.5 million copies and won 2 Grammys. After his relationship with Spears ended, Justin fell into the beautiful arms of Cameron Diaz and has been with her for three years.
Now, Justin's future looks even brighter. On top of having several films premiering this year, his second solo cd "Future Sex/LoveSounds" comes out September 12 and the first single "SexyBack" goes out to radio stations on July 7.
Jessica Simpson
Once considered just another Britney-clone, Simpson has emerged as a pop icon to be reckoned with. While music is what put Jessica on the map, it was her marriage to Nick Lachey and their subsequent MTV reality show that really launched her to super stardom.
Now that her film career and her high-profile divorce have made Simpson a staple in the weekly magazines, the blonde bombshell is ready to unleash her singing chops to her legions of fans once again. Jessica's new album is due out in August and the video for the first single, "A Public Affair," will be helmed by "X-Men: The Last Stand" director Brett Ratner.
JC Chasez
Even Britney, Justin and Christina's former fellow Mousketeer JC Chasez is getting back into the game. JC is set to release his second solo cd this fall, with the first single "Until Yesterday" expected to hit the airwaves in August. JC worked on the single with Timberlake - his former NSYNC bandmate.
As these pop stars ready for the next chapter of their musical careers, here's hoping Britney Spears-Federline can pull off a Mariah-style comeback in 2007.