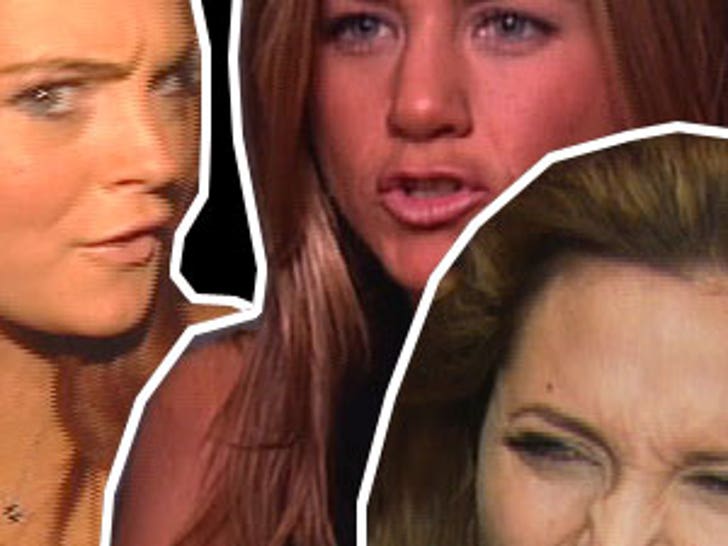 Everybody fights with their families - even celebrities. And while forgetting to call home may upset your mom, it won't land you on the cover of magazines next to Nicole Richie's latest missed meal.

Unfortunately, the big stars don't have that same luxury.
TMZ tracked down some of Hollywood's biggest family feuds that could give "Kramer vs. Kramer" a run for its money.
Angelina Jolie vs. Jon Voight
In 2001, Angelina Jolie co-starred with her dad, Jon Voight, in the hit film "Lara Croft: Tomb Raider." By 2002 they were no longer on speaking terms.
Voight went on national television and blamed the split on what he says were Jolie's "serious emotional problems." Jolie countered "I have determined that it is not healthy for me to be around my father, especially now that I am responsible for my own child (Maddox)."
She eventually legally dropped the 'Voight' from her last name.
It seems Jolie's main man Brad Pitt may need to get involved in order to settle this Hollywood Fight Club.
Tori Spelling vs. Candy Spelling
Tori first heard the news of her father's death via a friend's email and told Us Weekly "I can't believe my mom didn't call me!" Tori revealed she had only seen her father once since last September allegedly because she was unhappy that Candy was spending time with Mark Abramson, a longtime family friend, while Aaron's health deteriorated.
In response to Tori's interview in Us Weekly, Candy and Tori's brother Randy issued a statement saying "We are deeply saddened that, during our time of loss and grief, we are forced to respond to the media frenzy caused by the mean-spirited and surprising comments made by Tori to the press, just two days after the passing of Aaron."
Tori has also denied rumors that her estrangement from her parents had anything to do with her divorce from Charlie Shanian and subsequent marriage to actor Dean McDermott or her VH1 family-mocking series "so noTORIous."
Stay tuned for further developments in the 9021-Uh Oh.
Jennifer Aniston vs. Nancy Aniston
Jennifer Aniston severed her relation with her mother, Nancy, after she gossiped about her on a tabloid TV show and wrote the revealing book "From Mother and Daughter to Friends: A Memoir."
The rift ran so deep that Jennifer didn't even invite Nancy to her 2000 wedding to Brad Pitt. In 2004, Jennifer said "I never thought my mom would not know my husband."
Nancy may not have gotten to know Brad but he was partly responsible for bringing mom and daughter back together. Jennifer said that in the aftermath of her breakup from Pitt she and her mother mended their strained relationship. In 2005 Jennifer told "Good Morning America" "It was the time, and it was going to happen when it was supposed to happen. So this is good."
Now that Brad is out of the picture, it's good to see Jen and her mom are back to being 'Friends.'
Julia Roberts vs. Eric Roberts
The "Pretty Woman" and her brother Eric Roberts became estranged when Julia took Eric's ex-girlfriend's, Kelly Cunningham's, side in the couple's bitter custody battle over daughter Emma in 1993.
Ironically, as one child tore the siblings apart, another two helped reunite them.
In 2004, Eric visited Julia in the hospital after giving birth to her twins Phinnaeus and Hazel. Eric told PEOPLE "We all dropped a couple of tears" and everything is back on track.
Lindsay Lohan vs. Michael Lohan
Michael Lohan has had more run-ins with the law than his daughter Lindsay's had boyfriends. He's been arrested for everything from attacking a sanitation worker and assaulting his brother-in-law to drunk driving. These incidents were especially troubling as they occurred as Lindsay's career continued on it's meteoric rise to teen queen stardom. Things were further strained by Michael's nasty divorce to Lindsay's mom Dina. Michael even wanted Lindsay's fortunes considered a marital asset in the divorce but the request was denied.
Lindsay documented her relationship with her estranged dad in the song "Confessions of a Broken Heart (Father to Daughter)." In the song Lindsay sings "If you loved us, why did you do all these things." To make it even more personal, Lindsay directed the video and cast her 11-year-old sister Ali as a younger version of herself.
Michael responded to the video with a song of his own which said "I do admit, I did at times fall. But these things you know were due to "THEM."
With Michael serving time in a NY state prison and Lindsay shuttling cross-country from hotspot to hotspot, it looks like they are both spending their time apart behind bars.