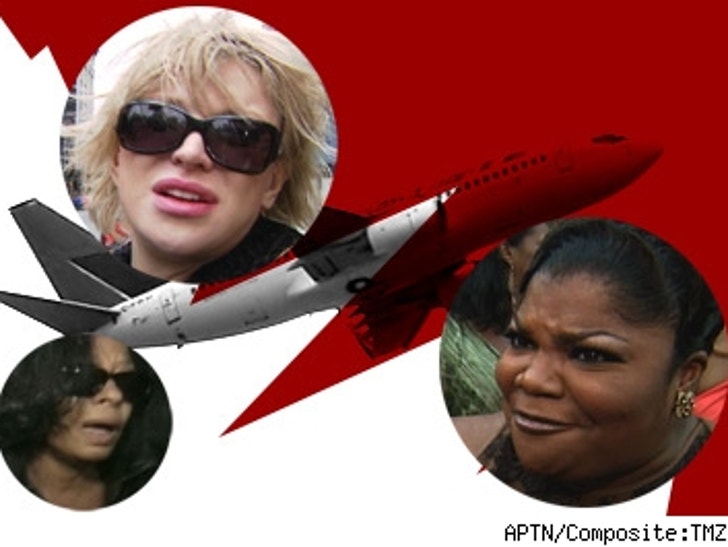 There's clearly something in the air that's landing celebs in hot water when they fly -- or even before they board.

Just this week, actress-comedian Mo'Nique threw a fit when a United Airlines flight attendant allegedly equated her and her entourage to terrorists, and David Hasselhoff had to take another flight back home from London yesterday after, according to witnesses quoted in British tabloids, he was turned away from a British Airways flight for erratic behavior -- a charge that his rep says is "totally untrue."
But these recent incidents are just two in a long, grand tradition of stars making the skies unfriendly for airline and airport employees – DMX, Diana Ross, REM guitarist Peter Buck, and Courtney Love have all contributed to the air-rage hall of fame.
Just this past May, rapper DMX, never the most placid of personalities, refused to fasten his seat belt on a flight from New York to London and allegedly "became abusive" with the staff, getting a caution from police when he arrived in London.
Courtney Love got upset that her friend wasn't allowed to sit in Virgin's Upper Class cabin with her and threw a hissy fit that reportedly included a striptease down to her undies. The incident resulted in her arrest when she arrived in London, though she wasn't formally charged with an offense.
And in perhaps the most bizarre air-rage story of them all, rocker Peter Buck mixed wine and sleeping pills on a British Airways flight from Seattle to London – always a dodgy proposition – and, amongst other things, allegedly tried to shove a CD into a drinks cart and got into a fight with attendants over a container of yogurt, causing a yogurt explosion on board. The rocker was charged with air rage, but was cleared in court of all charges.
There's clearly something about that long transatlantic journey that's getting the celebs all riled up -- pity that supersonic Concorde flies no more.