Travis and Paris Talk on the Down Low
Travis and Paris
Talk on the Down Low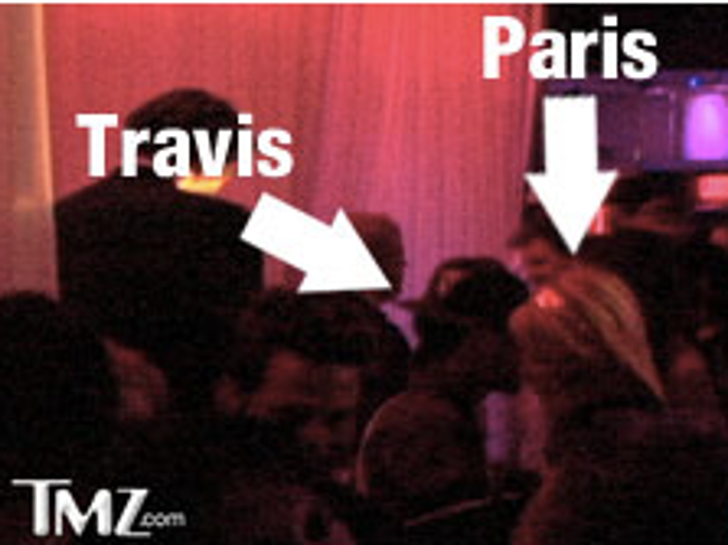 meras spotted Travis Barker and Paris Hilton in the midst of a seemingly serious conversation inside of PURE nightclub in Las Vegas Friday night. The pair have been spotted together frequently lately, and Paris recently had a run-in with Travis' estranged wife, Shanna Moakler.
Paris was in Sin City for the weekend to celebrate her sister Nicky's 23rd birthday. The sisters dined at Social House -- a sushi restaurant above Tangerine at the Treasure Island hotel -- on Friday night with DJ AM, Kevin Connolly and Travis Barker, among others. The group then walked the red carpet at Tangerine, but Paris didn't stop for interviews. Travis, however, did.
He told "EXTRA's" Carlos Diaz that he hasn't spoken to Paris or Shanna since the incident. "I've been broken," he said, referring to the sling around his arm. "I've been dealing with my arm and I'm finding out people have been beefing and I have no clue."
Once inside Tangerine, Paris and Travis were spotted together in the VIP section, but they each left separately after a short time to go to PURE. That's where photogs caught the pair having a conversation that looked a little more serious than your usual club dialogue.
Paris accused Shanna Moakler of punching her in the jaw on October 4. Moakler claims Paris' ex, Stavros Niarchos, shoved her down some stairs. Both blondes filed police reports with LAPD's Hollywood Division.