Brad's Unauthorized Vanity Fair Cover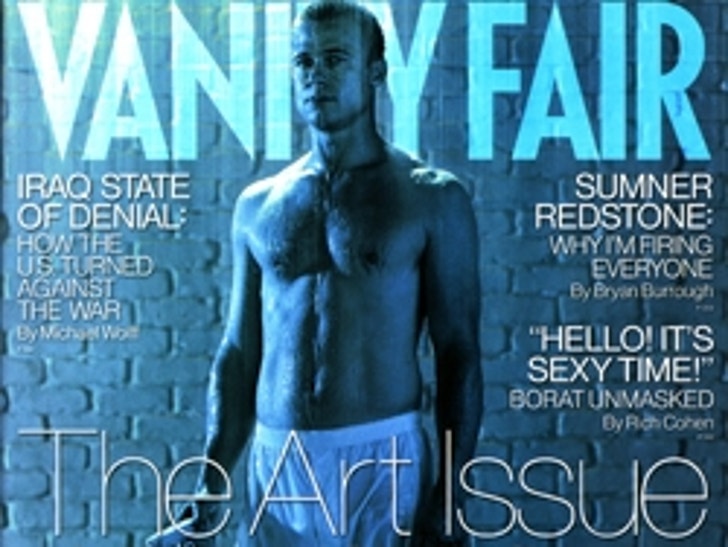 Brad Pitt struts his stuff on the cover of December's Vanity Fair -- and TMZ has learned that no one was more surprised to see the steamy cover on stands than Brad himself.

A source close to Pitt tells TMZ that Brad shot the photos, taken by artist Robert Wilson, in September 2005, but didn't have any idea at the time -- or anytime since -- that they would be used for the cover of VF. Pitt had agreed to be in Wilson's avant-garde video art project last year, and signed a legal release at the time for the still and video images taken in the shoot. But until the Vanity Fair cover emerged this week, Pitt didn't know that he would be the magazine's coverboy.
Reps for Vanity Fair tell TMZ, "In a letter dated October 5, 2006, and sent to Pitt care of Brillstein-Grey [Pitt's managers], Wilson informed Pitt that a still image from his portrait was going to be featured in the December art issue of Vanity Fair." A source says that Pitt never saw the letter.
Pitt's lawyers are said to be weighing their legal options. His rep gave the following statement to TMZ: "We are very disappointed that Vanity Fair has chosen to put an unauthorized cover on their magazine. It seriously makes me question their integrity and motives."
A rep for Vanity Fair tells TMZ: "Brad Pitt posed for a Robert Wilson video portrait, and in the photo release (signed by Pitt), agreed to allow Wilson to use the portrait or any images from that sitting in connection with any publicity on
Wilson's video project. Vanity Fair decided to do a story on Wilson's video portraits and obtained rights to the entire collection of photographs from those sittings, which included Pitt's."