Crazy In Love -- Wild Wedding Shockers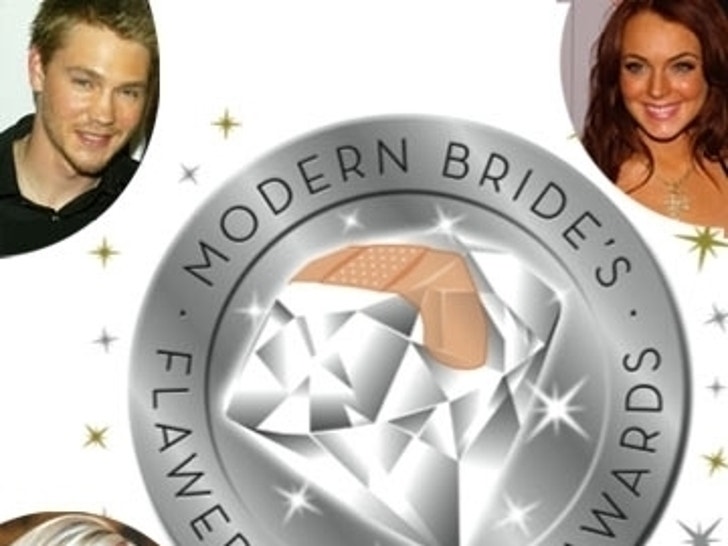 Everyone knows weddings can make people nuts. Add A-list stars to the mix and you know how bizarre things can get.
Since December is the #1 month for engagements, Modern Bride magazine has compiled their winners for the Flawed Diamond Awards, which honors inane things celebs have said and done in the name of love.

Lindsay Lohan may not be married yet, but the consummate party girl still gets the "Way to Take It Seriously Award" for saying, "Marriage is a big deal, but who's to say I'm not going to pull a 'Vegas' and get married just to get married and see what it's like for a minute?" You can't make this up, people!
For taking great pains to have a super-private Fijian wedding -- that happened to come with a full spread in People magazine -- Tori Spelling receives the dubious "Please (Don't) Respect Our Privacy Award." Maybe Candy isn't so crazy after all.
Things were uncomfortable enough on the "One Tree Hill" set after Chad Michael Murray's 5-month marriage to his co-star, Sophia Bush, came to a screeching halt. They went from bad to worse just seven months later, when Murray popped the question to one of the show's extras, who just so happened to be a high school senior. Chad's rogue behavior wins him the "Can You Make It Any More Awkward to Go to Work? Award, and, we're guessing, a call from Human Resources.
Find all the Flawed Diamond award recipients in the December issue of Modern Bride, on sale November 14.