Naughty Miss Nevada Stripped of Her Title
Naughty Miss Nevada
Stripped of Her Title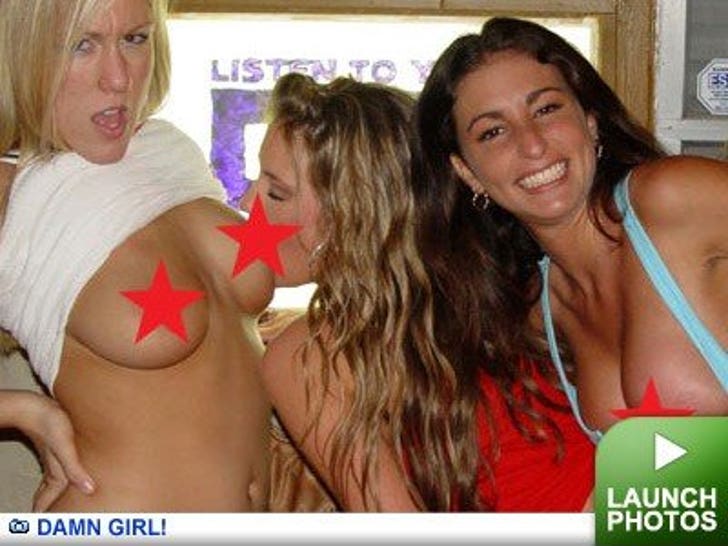 TMZ has learned that Katie Rees, Miss Nevada USA 2007, has been stripped of her title after racy photos emerged of her kissing other women and exposing herself. Miss Nevada is in red. TMZ has exclusively obtained the entire graphic series.
In a statement, Paula M. Shugart, President of the Miss Universe Organization, said "Katie Rees has been relieved of her duties as Miss Nevada USA 2007. First Runner-up Helen Salas will assume the title and compete at the 2007 MISS USA Pageant on March 23 in Los Angeles."
Pageant spokeswoman Lark-Marie Anton told TMZ that that while Donald Trump approved Miss Nevada's dethroning, it was Shugart who ultimately made the decision. "Mr. Trump runs a billion-dollar real estate company, besides owning the pageant," she said, "His priorities are the title holders -- Miss Universe, Miss USA and Miss Teen USA." Anton added that these types of decisions are made all the time, they are just more high-profile now, in light of the current scandal involving Miss USA Tara Conner.
In a statement Thursday, an attorney for Rees, says "Katie wants the public to know she was 17 and had a lapse in judgment. This was an isolated incident that occurred more than five years ago when she was a minor."
Helen Salas was Miss Nevada Teen USA in 2004, and and a second runner-up at Miss Teen USA.
UPDATE: Reps for Rees have issued a new statement admitting she was 19 at the time the photos were taken.