This Week's Biggest Losers 12/30/06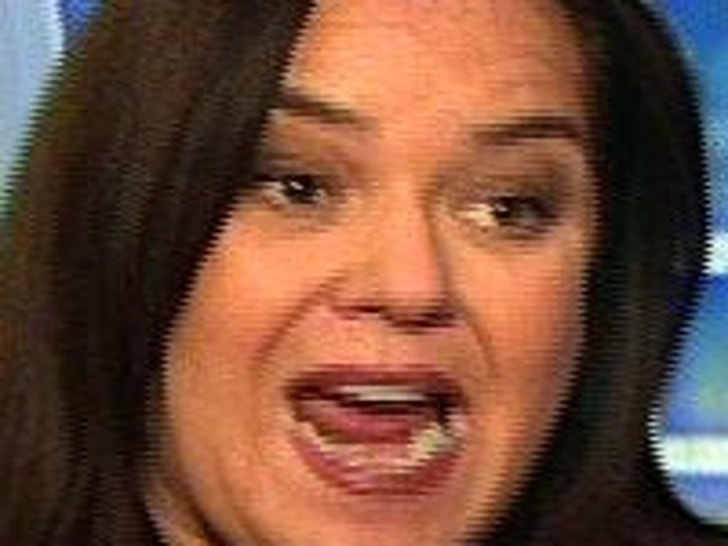 In some ways, this weekend is all about Vegas, from Michael Jackson's rumored return, to the New Year's Eve bashes hosted by Pam Anderson, Kid Rock and Britney. But as these Strip partiers make their hazy resolutions, they should bear in mind that what happens in the Zone definitely doesn't stay in the Zone.
Rosie O'Donnell: Last week, to the consternation of some of our readers, we dinged The Donald because we felt his behavior was akin to that of the schoolyard bully picking on the fat girl. What a difference a week of blogging makes. Although Rosie had a perfect opportunity, post-Christmas, to surf away from it all and let "the combover" continue to blow hard in the wind, she crossed the Moving Type line by labeling him "a pimp." In one of many subsequent retort interviews given by Trump, he went here: "Can you imagine the parents of Kelli [O'Donnell]... when she said, 'Mom, Dad, I just fell in love with a big, fat pig named Rosie.' Can you imagine the expression on their face?"
Mike Tyson: On the plus side, when Tyson was pulled over in Scottsdale at 1:45 AM Friday morning and slapped with a DUI, he did not go on a rant and blame caucasians for all wars. On the minus side, this is just the latest in a very long line of infractions that began with a purse-snatching arrest in Brooklyn when he was 12. By our rough estimation, this is -- on the heels of "Rocky Balboa" -- also about major infraction number VI for the one-time heavyweight boxing champ. However, unlike Rocky's latest tangle with opponent Mason "The Line" Dixon, Tyson could go down for the count here, again, because Maricopa County Sheriff's Department referees found traces of "the line" on Mike's dashboard.
Nicole Kidman: Kidman has stood by her man through thick and thin -- and rehab. But, if charges leveled this week at Keith Urban by 23-year-old Amanda Wyatt are true, it could be the last straw in the Stetson hat. The part-time Nashville model, who was paid for an interview with British tabloid The Daily Mail, said her down and dirty dallying with Urban lasted all the way through the singer's courtship with Nicole, encompassing everything from lascivious text messages to using a cornucopia of drugs. Urban's publicist, Paul Freundlich, has dismissed the accusations as "fiction." Even if these claims fade away, it's just one more reminder for Kidman that when you're a celebrity, you just have to get "Used to the Pain" of rumormongers.
Arnold Schwarzenegger: The Governator is not on our list because of his misfortune on the ski slopes of Sun Valley. As they say in Austria (and some corners of Gold's Gym in Venice): die scheisse happens! No, we're tagging Arnold for not taking advantage of his PR cloak of secrecy, an M.O. that meant reporters weren't even aware that he was in Idaho in the first place. Instead of explaining that his broken leg was caused by getting tangled up with a ski pole while stationary, his people should have spun something along the lines of tumbling down a Black Diamond trail while attempting a "triple Schnitzel." Arnold should remember from his Hollywood days: If it doesn't feel right, it's time to rewrite!
Britney Spears: What would a year of TMZ Loser lore be without one more before-midnight mention of the Pantyless Princess? Just plain wrong, that's what! As first reported by TMZ, the website WorldofBritney.com is planning to make good on a New Year's resolution in '07: they're K-Fed-up as hell and they're not going to take it anymore -- and they're dumping Britney. While webmaster Reuben Garay and pal Carolina say they plan to redirect their Internet efforts toward a more generic celebrity-focused blog, there is good news of sorts for everyone's favorite BS gal ... although the web domain www.nopanties.com is already taken (it points appropriately enough to an adult site by the name of reallyshortskirts.com), www.nopanties.net appears to be for sale via a domain squatter in Washington state. Consider it an investment in your future, B-girl!