Anna Saga -- New Potential Baby Daddy Surfaces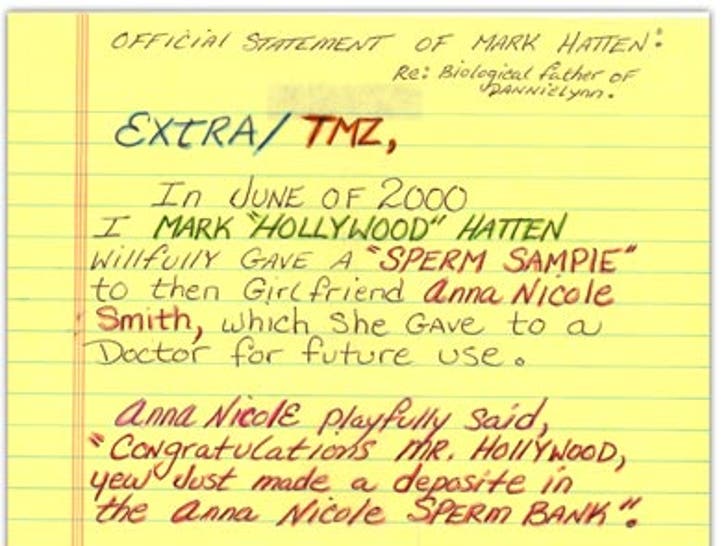 The man convicted of making terrorist threats against Anna Nicole Smith has sent TMZ's Managing Editor Harvey Levin a letter from prison, claiming he could be Dannielynn's dad.

Mark "Hollywood" Hatten claims he "willfully gave a sperm sample to then girlfriend Anna Nicole Smith, which she gave to a doctor for future use." He then writes, "I allege that I could be the father of Dannielynn by means of artificial insemanation (sic)."
Hatten, who is currently serving a seven year sentence in Pleasant Valley State Prison, had a brief relationship with Smith in 2000. Cops believe Hatten began stalking Smith soon after their relationship fizzled. Hatten, who tattooed himself with Smith's likeness, was also convicted of beating up Anna's neighbor.
In his letter to Levin, Hatten says after he gave Anna a sperm sample, she said, "Congratulations Mr. Hollywood, you just made a deposite (sic) in the Anna Nicole sperm bank."
Hatten adds, "I am formerly (sic) requesting to compare my DNA to both Anna Nicole and the infant child Dannielynn."