L.A. Coincidental: Clooney vs. Crowe?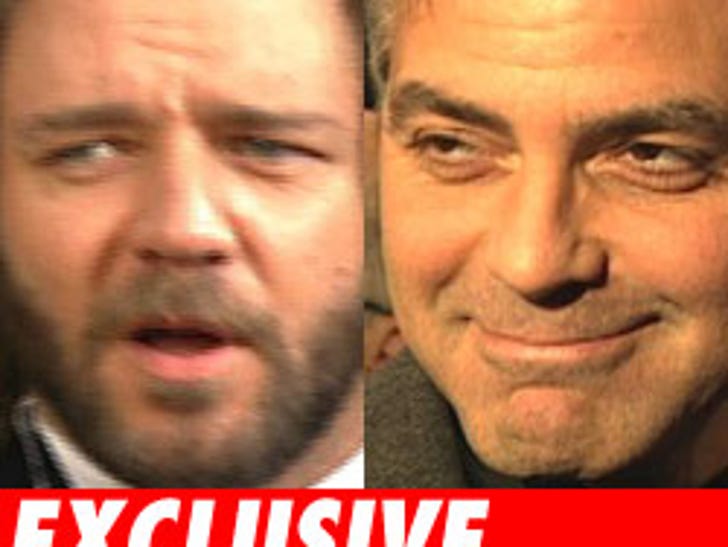 BREAKING NEWS: Would the real sequel to "L.A. Confidential" please step forward?
TMZ has learned that the creative team and stars from the original "L.A. Confidential" are in discussions with Twentieth Century Fox-based Regency Enterprises about reteaming for a sequel to the Oscar-winning noir script.
No doubt, their discussions will cause some consternation to Joe Carnahan ("Narc") who's already
announced plans
to direct his own "L.A. Confidential" sequel: An adaptation of James Ellroy's "White Jazz" with George Clooney toplining as Det. David Klein. "Jazz" is the fourth book in Ellroy's Los Angeles tetralogy. "LA Confidential" was the third, preceded by "The Black Dahlia" and "The Big Nowhere."
Insiders tell TMZ that the Curtis Hanson and Brian Helgeland sequel being discussed wouldn't rely on the plot of "White Jazz," but simply pick up where "L.A. Confidential" left off: With Lt. Ed Exley (originally played by Guy Pearce), a rising star in the LAPD, and Officer Bud White (originally played by Russell Crowe), now an ex-cop who lives with an ex-whore. As of last month, Pearce was being mulled for a part in "White Jazz," but he
downplayed
the rumors at a press conference to promote the new Andy Warhol film "Factory Girl." Indeed, in Ellroy's "White Jazz," Exley's character actually has a very small part; in Helgeland and Hanson's project, it could potentially be made far larger. No deals have been made, but the discussions are on-going. We'll keep you updated.