Paris & Nicole Search for the Next Jon Benet
Paris & Nicole
Search for the Next
Jon Benet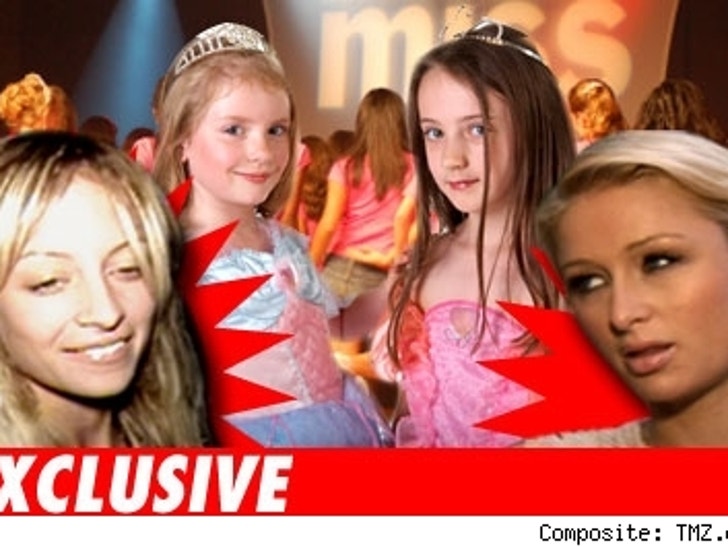 TMZ has learned that on a "Beauty Pageant Camp" themed episode of the new season of E!'s "The Simple Life," Paris Hilton and Nicole Richie will help bring out the "Jon Benet Ramsey" in a hopeful troop of little girl beauty queens. No botched police investigation necessary!
On-set sources tell TMZ that in a segment taped two weeks ago at the Woodland Hills Hilton, Paris and Nicole spent a week training ten little girls and their moms in the ins-and-outs of becoming a real-life "Little Miss Sunshine." Don't worry, Paris and Nicole were not judging the talent portion! TMZ has learned pageant judges included a former Miss Rhode Island and Nick Verreos from "Project Runway."
When it came time for the actual pageant, producers threw in a twist -- the pageant was actually for the moms, not for the girls, who were made-up like pre-pubescent mini drag queens... just like Paris and Nicole!
Sources tell TMZ that both Paris and Nicole were late and delayed shooting. Finally on set, the DUI twins were described as "sweet but detached," also appearing to be distant with each other. Could there be trouble in heiressland? When production wrapped for the day, Paris and Nicole left immediately -- leaving the little girls disappointed that they didn't stay to pose for pictures with them. Don't those kids know you need press credentials to take their pics?!
A rep for "The Simple Life" told TMZ, "Paris and Nicole did not cause the delay that day. It is completely commonplace in the course of a production day for things to fall behind schedule, and because shooting was running longer than anticipated, Paris and Nicole arrived at the location later than expected. Because of the late hour, they both had to leave the location immediately after we finished shooting there due to other professional commitments. While it is not in their job description to stay behind and pose for photographs after a scene is shot, they ordinarily do mingle with the fans after shooting is completed -- it just wasn't possible that night."