Entourage Decoder: "Manic Monday"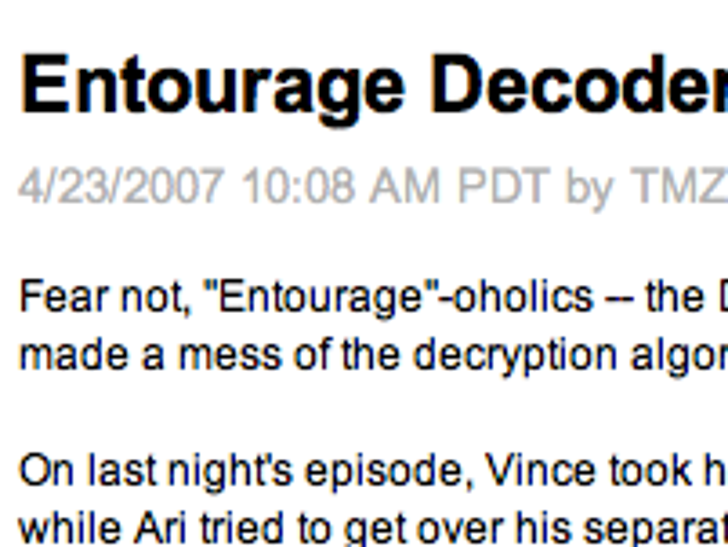 Fear not, "Entourage"-oholics -- the Decoder is back after last week's Nor'easter flooded the circuitry and made a mess of the decryption algorithms so necessary to deciphering art versus life in Hollywood.
On last night's episode, Vince took his agent-client relationship with Amanda to a very different level, while Ari tried to get over his separation anxiety from Vince by getting his essential Ari-ness back, which he managed with a vengeance. (The entourage itself -- E, Drama, Turtle -- had a relatively stress-free week.)
Nonetheless, the Decoder had plenty to chew on and spit out, including the whole agent-client-with-privileges question, a Juicy piece of Hollywood gossip, and more on the boys' favorite pastime -- indoor golf.
ART: At the end of the episode, Vince and Amanda look very much on their way to taking their professional life down a very personal path. What's the deal with agent-client relations anyway? Any bigshot stars hooking up with their real-life agents?
LIFE: Agents and stars have been getting together since the silent era, but probably the most famous and recent example is double-Oscar-winner Hilary Swank, who was snapped cavorting with one of her CAA agents, John Campisi, not long after her very public breakup with hubby Chad Lowe. In fact, TMZ spotted Swank and Campisi talking more pleasure than business, it seemed, at New York boite Prune just a few weeks ago.
ART: The agent Rob Rubino gets a brief reprieve from Good Ari after he tells a sob story about getting dumped by his wife, who he says "put a J" on terrycloth sweatpants, made herself a $50 million fortune, and then wound up in the arms of "the guy from the Chili Peppers." Sounds oddly familiar, no?
LIFE: Well, it should, mostly. Gela Nash-Taylor, one of the founders of Juicy Couture (hence the "J"), is married to John Taylor -- best known as the bassist for Duran Duran -- and married him after she had made Juicy one of the hottest brands in fashion. She and partner Pamela Skaist-Levy sold out to Liz Claiborne back in 2003 for $53 million. The real Nash-Taylor, however, was reportedly married to a musician named Chris Nash, not an agent, like the ophthalmologically-reduced one here. (And, by the way, we talked to some people we know at William Morris, and they wouldn't talk about the William Morris Agency secret handshake -- but, as they point out, it's secret!)

ART: What's with that damn golf simulator anyway? Don't these guys live in L.A., where there are golf courses everywhere? Every episode, it seems, includes a shot of the faux-links.
LIFE: If you had one of these bad boys you too might stay inside to play golf. Behold the Full Swing Golf simulator, which has been installed at the homes of Bill Gates, Donald Trump, and Michael Jordan, just to name a few. In fact, only about 200 around the world are in private homes, and it costs $75,000, which includes 50 life-like full courses to play. Infrared technology is the key to getting incredible accuracy and precision when it comes to the realism of the simulated game.