Paris 45 Days in the Clink?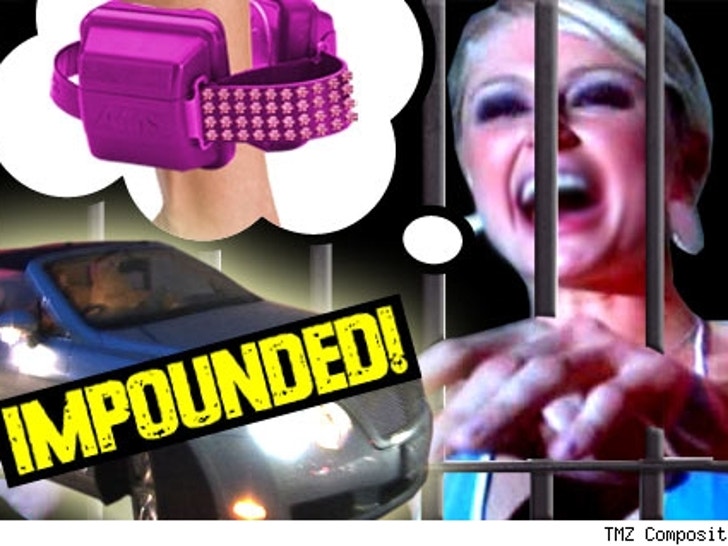 If Los Angeles prosecutors get their way, Paris Hilton will spend 45 days in the clink.

Hilton is due in court this afternoon on a probation violation. She's accused of driving with a suspended license on two occasions after her DUI bust last September. Hilton pled no contest in January to alcohol-related reckless driving.
In legal papers obtained by TMZ, the Los Angeles City Attorney claims Paris flaunted the law by repeatedly driving without a license. In addition to jail time, the City Attorney wants the judge to order Paris not to consume alcohol for 90 days. During that 90-day period, prosecutors want Paris hooked up with a Secure Continuous Remote Alcohol Monitoring (SCRAM) device.
They also want her license suspended for an additional four months. And, poor thing, they want to impound her Bentley for 30 days.
We'll have the results of the hearing soon. Stay tuned.
Britney -- Ready to Break Herself Down?
After her 11-minute stripperiffic mini-session at the House of Blues on the Sunset Strip last night, Britney Spears was ready to relive it all over again.
Sources close to the pop star tell TMZ that Spears asked the HOB for a video of her performance for "personal use." So, with her intense dance training regimen and now the post-concert breakdown, is the old Britney officially back?
Our eyes inside noted that Brit donned a new wig for her big show, and that it managed to stay on without the aid of a headband. There were no naughty references to drug use,
as had been reported from another show, and Spears left the stage with a terse, "Thank you L.A." TMZ spies also noticed Lindsay Lohan catching the action from the balcony level -- and for those keeping track, the show was open to all ages.

Alec Baldwin was M.I.A. in court today, as a judge decides whether the actor should win back the right to have contact with his daughter.
Kim Basinger was front and center in court today, as the L.A. County Superior Court commissioner closed the courtroom in the interests of the former couple's daughter, Ireland.
Baldwin's right to interact with Ireland was suspended after the judge heard the now-infamous voice mail message he left for his daughter. A Baldwin source tells TMZ that Alec didn't show today because the lawyers, not the parents, are the ones who will speak. The source added that Ireland is "of paramount importance to him."
The Baldwin source added that Alec had a "great two-week visit with Ireland" back in March. After that visit, the source says Baldwin suspended his motion to hold Kim in contempt for allegedly interfering with his parental rights. The source says Baldwin suspended the motion as a show of good faith. The upshot -- he could resurrect the contempt action in the wake of what has gone down.
We'll update this as soon as the hearing is over. Stay tuned.
Rapper Eve has been officially charged with driving under the influence, stemming from a late night car accident in Los Angeles last week.
As TMZ first reported, Eve (whose real name is Eve Jihan Jeffers) was arrested after she crashed her gold Maserati into the center divider on Hollywood Blvd. around 2:45 AM. Police sources told TMZ that her blood alcohol level was nearly twice the legal limit. Prosecutors also
Eve's due back in court on May 17. If convicted, the former Ruff Ryder could face a minimum $1,000 fine and a maximum of six months in jail.
Party Favors: Elizabeth Taylor Tells "Simpsons" to "F**k Off" ... NBC Pays Princely Sum for Royals ... Busta Rhymes' Armored Car
"Simpsons" creator Matt Groening tells Playboy (via Rush & Molloy) that he actually enlisted Elizabeth Taylor to voice the first words of baby Maggie -- "Daddy" -- but after 24 takes ("They were always too sexual," says Groening) the screen legend told him to "F**k off" and bailed. ... Did NBC pay $2.5 million to get Matt Lauer an exclusive with Princes William and Harry? Sources tell Page Six that while NBC News didn't (and wouldn't) pay for the access, NBC itself paid the big bucks for the rights to air the Princes' tribute concert to their late mother, which had an interview attached to it. ... That SUV that Busta Rhymes was driving yesterday when he got popped for DUI? Turns out, according to the New York Daily News, that it was a $225,000 armored version that's more like a tank than a mere truck.