TrimWater Trimming TrimSpa Post-Anna Nicole?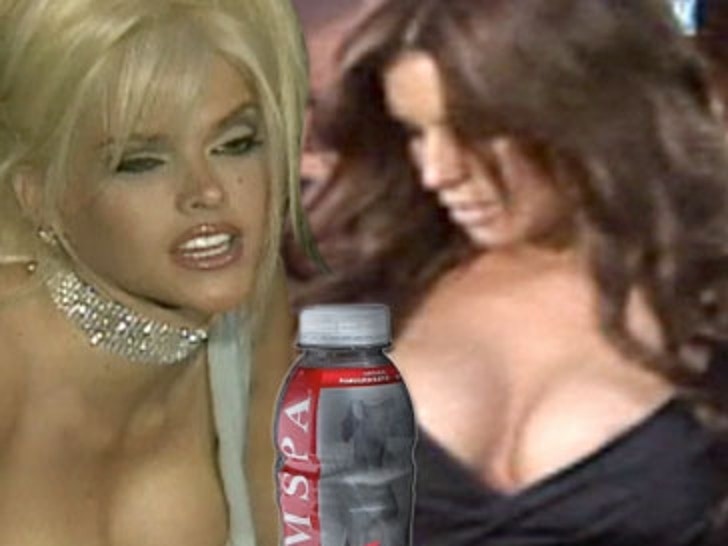 A health-water company called TrimWater is ditching its association with TrimSpa -- Anna Nicole's not-exactly-fave diet pill outfit -- as it bids to be the next big thing in bottled bevs.

The New York Post reportsTrimWater is courting Jessica Simpson, Cameron Diaz and other A-listers to hawk their waters, which are low sugar and low calorie. But after a fairly lengthy and close knit marketing partnership with TrimSpa, evident on their old labeling, the water guys -- a company called Lifestyle Beverages -- are ending their licensing partnership with TrimSpa, owned by Nutramerica Corp. They'll even be taking the TrimSpa name off their bottles.
TrimWater's chief David Sackler tells TMZ that TrimSpa's "message is different than ours," and that their deal with the troubled company is simply coming to its contractual end. TrimSpa just settled a major class-action lawsuit and suffered a PR nightmare when TMZ -- and toxicology following her arrest -- revealed that its most famous spokesdieter, Anna Nicole Smith, was using a rival product when she died in February. A TrimSpa rep says that the parting is amicable.
Sackler wouldn't elaborate on Jess and Cam's involvement, but they're said to be interested, after 50 Cent made a multi-million dollar haul shilling his own line of VitaminWater, whose parent company was bought for $4 billion.