Spears' Attorney Fears Kidnapping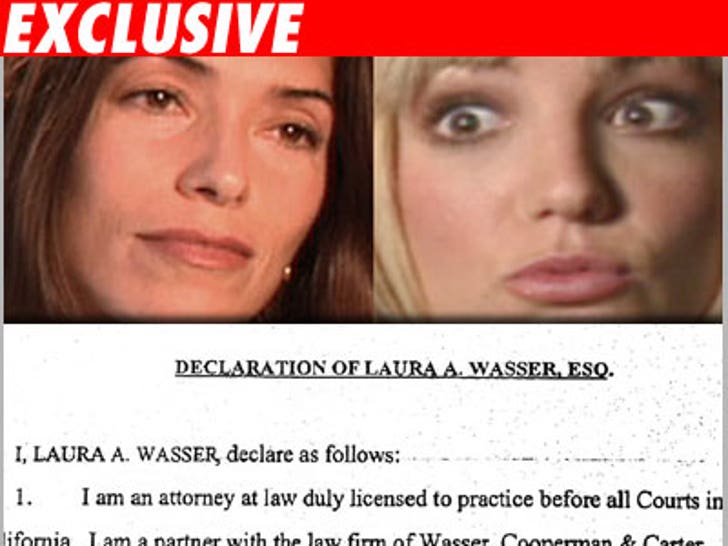 TMZ has obtained a declaration filed today by Britney Spears' lawyer, expressing fear that "criminals ... might target the minor children for financial gain."

Attorney Laura Wasser asked the judge this afternoon to seal the child custody portion of the divorce between Spears and Kevin Federline. In her declaration, Wasser wrote that the document -- which divides custody 50/50 -- details the specific timeshare schedule and transportation matters. Wasser fears if the document becomes public, the media would have "a greater ability to ascertain the physical whereabouts of the minor children."
Wasser wrote: "Such information greatly increases the chances that the actions of the media could threaten the safety of the minor children by, for example, causing a traffic accident or by exposing the minor children to criminals who might target the minor
children for financial gain." Wasser did not use the word 'kidnapping,' but the intimation was certainly there.

The judge granted Wasser's motion to seal the custody documents, pending a full hearing next month. The judge also agreed to keep secret the child support provisions of the divorce.
Cops: "Little" Star Hit Bar, Drove Car
The pint-sized pop on the TLC reality show "Little People, Big World" has been hiding a pretty big secret -- he was busted for DUI last month.

According to the Washington County Sheriff's Office, 45-year-old Matthew Roloff was arrested on suspicion of driving under the influence of intoxicants, around midnight on June 19 after cops claim that Roloff's van had been swerving on the road.
Roloff, who then failed a field sobriety test, was taken to Washington County Jail, where he was cited and released.
"Idol" Contestant Clark Popped for Drug Possession
Corey Clark -- the "American Idol" wannabeen who claimed to have had an affair with Paula Abdul, was arrested in North Little Rock, Ark. on charges of possession of marijuana and drug paraphernalia, according to police. When his vehicle was idling in a neighborhood early Monday morning, officers approached, and Clark exited the vehicle. A check revealed that he had outstanding felony warrants for his arrest in Arizona, where he was arrested and charged earlier this year for aggravated harassment and interference with judicial proceedings. Bail was set at $25,000.

Hey Lohan! See You in Court!
A Los Angeles woman has sued Lindsay Lohan in small claims court, claiming the troubled actress and her bodyguard hit her car.
As TMZ first reported, Signe Dupuy claims that in April 2006 LiLo and her main man, Jaz, cut her off in their SUV while she was driving on Fairfax Ave. in L.A. Dupuy says when she got out of the car, Lindsay stopped and glared at her, while Jaz was "hostile" and "tried to intimidate" her. She says they gave her a fake name and number (the nerve!) and drove away.
Signe tells us this is her last resort, as she has tried to contact Lindsay several times, even sending her rep a letter. Lindsay's rep told us she did get the letter but "filed it away," adding "I assumed the letter was sent to [Lindsay's] lawyers. That's what they're paid for."
Assuming Lindsay isn't busy in a different court, she's due in small claims court to face Dupuy in September.