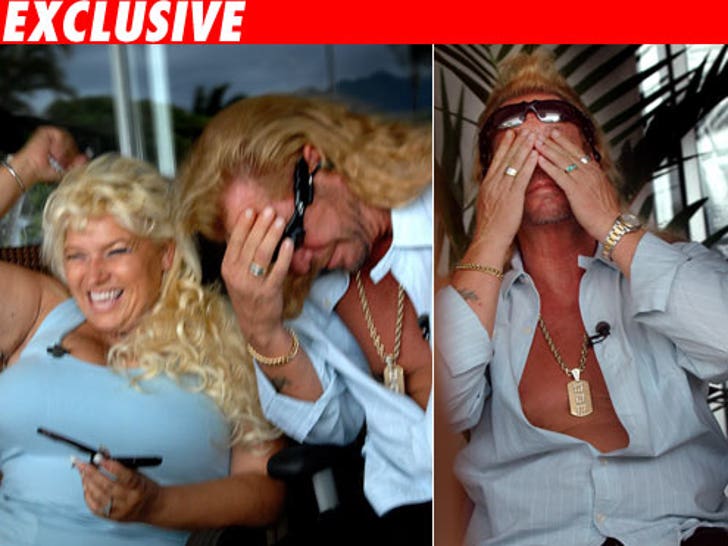 TMZ has learned that all Mexican charges may have been dropped against famed bounty hunter Duane "Dog" Chapman and two members of his team -- including his son. We're told these photos were taken moments after Dog learned his fate. Hallelujah!

The group had been charged by a Mexican court with deprivation of liberty, after their 2003 capture of convicted serial rapist Andrew Luster in Puerto Vallarta. Chapman had traveled to Mexico to retrieve the Max Factor cosmetics heir, who was wanted in the U.S. on rape charges. Luster is now in jail, serving a 124-year term.
The Chapman crew was jailed for a brief time after the incident as bounty hunting is considered a crime in Mexico. While TMZ could not immediately confirm the ruling (because nosotros hablamos espanol only a little), Dog's attorney told us he "has received a favorable ruling from the people in Puerto Vallarta. The extent of that ruling is unknown as we are still in the process of translating it."
Dog, through his publicist, told TMZ, "Viva La Mexico!"
UPDATE: A spokesman for A&E, where Dog's show airs, gave TMZ this statement exclusively:
Earlier this week the First Criminal Court in Puerto Vallarta, Mexico dismissed all charges against Dog, Tim and Leland Chapman due to the expiration of the statute of limitations on the criminal counts pending against them. The order effectively cancelled all pending charges. The ruling is, however, subject to appeal by the prosecution in Puerto Vallarta. If an appeal is sought, it must be filed by Wednesday, August 8th. Our thoughts and best wishes are with the Chapman family as they await the prosecution's decision. More information will be posted on AETV.com as it becomes available.