Jermaine's Ex -- He's Cheap and Creepy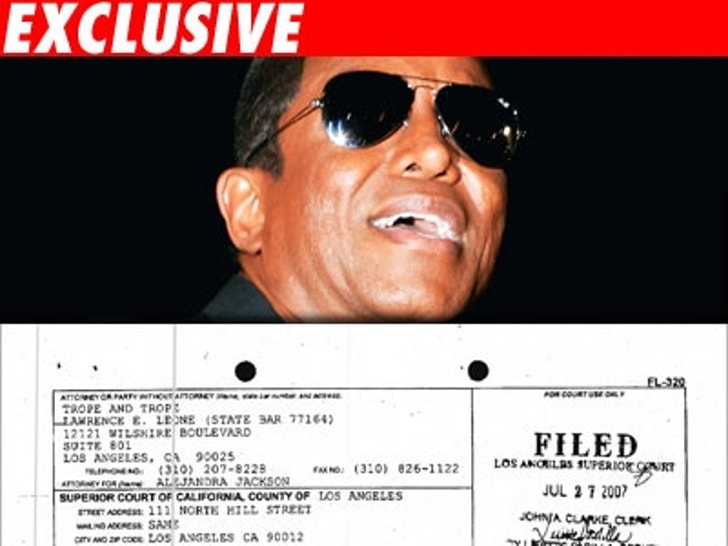 Jermaine Jackson's estranged wife has filed court papers claiming the singer is pleading poverty, even though he's loaded. By the way, she's also alleging Jermaine has some weird sleeping arrangements with their two kids, Jaffar, 11 and Jermajesty, 7.

In legal papers filed late last month and just obtained by TMZ, Alejandra Jackson says she's not getting squat from Jermaine in spousal or child support. As a result, she says she can't make her car payment, has to borrow money for gas, and drives with an expired registration.
Alejandra alleges Jermaine's claim that he's broke is a "smokescreen." In legal papers, she says sarcastically, "he (claims) he has no income and all of his expenses are paid for by his girlfriend, who coincidentally, suddenly has a Swiss bank account and a Rolls Royce in her name after having worked at Bloomingdales and Macy's."
Alejandra claims Jermaine raked in the dough from the UK version of "Big Brother," as well as from royalties, business deals and what not.
And then there's this -- "I seek full custody of our children, with reasonable visitation to Jermaine because I have concerns regarding Jermaine's sleeping accommodations for our children while they are in his care." She goes on -- "I believe it is unhealthy for our children to sleep in the same bedroom with Jermaine and his girlfriend...."
Jermaine filed for divorce in 2004. Prior to marrying Jermaine, Alejandra had two children with his brother, Randy