Nick's Mom -- I Didn't Dump the Dog!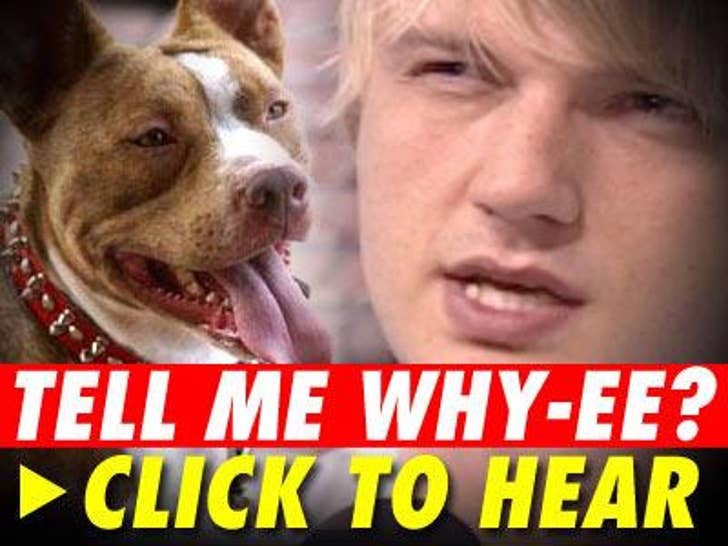 Nick Carter's mom, Jane, tried to explain how her son's beloved pit bull ended up in a shelter -- but the credibility of her excuse is just slightly less believable than "The dog ate my homework."

Jane Carter called the MJ Morning Show to slam our story from Wednesday as "baloney," claiming that she gave Layla, a pit bull mix, to a "friend of her husband" to keep at his kennel. Then, she says, the dog escaped from the kennel, though this kennel-owner "friend" apparently didn't notice the dog was gone until animal services picked it up and took it to the shelter in Hernando County.
Mama Carter -- who's had plenty of public tiffs with Nick -- also made some excuse about not having a phone and the dog not being well trained, even though we're told that Nick spent $7,000 to train Layla.
Meanwhile, Carter also took the chance to accuse Ranelle Black, the woman who originally rescued the dog back in L.A. and got the alert that she was missing, of trying to hijack money from Nick.
In a statement to TMZ, Black blasted Mama Carter's claims,saying:
"Regarding Jane Carter's comment of "trying to hijack money from Nick", there is absolutely no basis for her egregious accusation. I have been working with Nick to facilitate the return of Layla to him without any thought or request for compensation of any kind.
Nick and his representatives and I have been discussing the best way to bring Layla back to Nick in LA. This can be confirmed either with Nick directly or his representatives. I have dedicated my life to rescuing and sheltering dogs and have done so not only without compensation, but at great personal expense. I have neither sought nor pursued any public attention to the work that I do."