Courtney's Close Shave With Photogs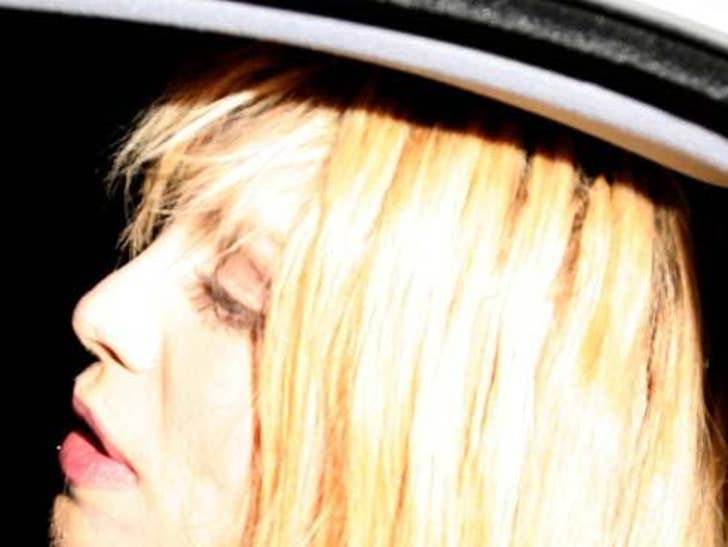 Sorry about the fuzzy pic. Photogs had to rush to snap this shot of the Widow Cobain as she left a punk club in London last night -- managing to catch her by a whisker!

And yet, even in this quick pic, Courtney's hair is stunning! She's a peach!
Britney -- Welcome to the O.C.
Britney Spears tried to escape the paparazzi by venturing out of L.A. and into Orange County last night -- but lucky for us (and now you), she wasn't successful. Ding dang it!
TMZ caught the county-hopping party mom bopping away at a fashion show inside O.C. club Sutra, smiling and laughing as she watched a group of mega-hot, stacked models walk the runway.
Brit looked surprised when her new song "Gimme More" started playing during the show and quickly disappeared into the crowd, finding a more secluded position for the rest of the night. Spears didn't stick around to party once the show was over. It's a long drive back, y'all!
Francis Calls B.S. on Girls Gone Litigious Claims
A pair of Florida women who are suing Joe Francis and "Girls Gone Wild" -- claiming they never gave their consent to have their sexcapades released to the public -- now have their stories cast into serious doubt by the video evidence.
TMZ has obtained original footage of plaintiffs Christina Brose and Brooke Patsolic, showing that they clearly agree to let producers use the saucy stuff they'd just filmed on the "GGW" bus. "You have my full permission to put this on anything, I don't care," says Brose, who also gives her full name and age on tape. Brose's pal, Brooke, also gives her on-camera consent, even pointing out the presence of cops on scene.
But wait, there's more! While on board the "GGW" cruiser, Brooke seems to have every awareness of what's going on, exclaiming, "Tomorrow, we're going to be like, 'What the f*** were we doing?'" Of course, this is just before she lets her four gal pals -- including Christina -- paint her with whipped cream lines and lick 'em off.
Brose and Patsolic's lawsuit, filed in federal court in Florida in June, says that they "specifically did not consent to any use of their likeness or image." But even their suit appears to backtrack, claiming, "Alternatively, to the extent that any consent was ever given, such
consent was obtained through unlawful means and through the provision of alcohol to uderaged persons, through coercion and under false pretenses."
"Girls Gone Wild" says that the women's claims "couldn't be further from the truth" and says that it has "a strict compliance procedure" to get consent. Christopher Hill, the plaintiffs' attorney, didn't return a phone call seeking comment.
Anne Heche: Still Making That "Ellen" Money
Financial documents filed this week in the Anne Heche/Coley Laffoon divorce show all sorts of weird economics in the life that is Anne Heche.

According to documents filed on Wednesday, among the residual income earned by Heche's Celestia Films Inc. between January and July of this year, there's a whopping $34.74 from her work on the sitcom "Ellen" -- a whole two episodes! Other fun residuals include "Higglytown Heroes" ($45.94), "Silver Bells" ($15.61) and "Murphy Brown" (36.87). Being a guest star has its perks!
Don't fret -- Heche made $675,000 during that time for her work on "Men in Trees." It's a show on ABC.
We're not sure what they're serving at the craft services table on the SoHo set of "Sex and the City," but things definitely got a little wacky there yesterday.
First, there was Sarah Jessica Parker showing her dark side, all Gothed-up in dark hair, black clothes, and her usual sullen mood. A bit of foreshadowing, perhaps? Speaking of SJP, a full shoving match broke out when her bodyguard had to restrain an overzealous autograph seeker. If you thought all "SATC" fans were thirtysomething urbanettes, check out this guy -- a big, burly dude who probably doesn't look so hot in Manolos.
Then there's our favorite New York fan of the moment, the same woman who bounced with glee for Jessica Simpson. The crazy-haired loon tried to squeeze her way onto the set, but got the big boot from a kindly staffer. Still, once she realized cameras were also rolling off set, she gave our photog an eyeful -- which he's still trying to forget!
The loveliness that is Carrot Top appeared at "Live with Regis and Kelly" in this charming college ensemble, revealing his finely shaped limbs and stunning black nail polish that's so hot this season! Girlfriend's been working out!

Wearing chic pancake base, Carrot Top proved that the only thing more sculpted than his shoulders -- are his brows! Flawless! The buffalo-armed prop comic's signature Bozo hair has taken on Orphan Annie proportions.