Copperfield Secret Document -- How to Pick Up Chicks
Copperfield Secret Document
How to Pick Up Chicks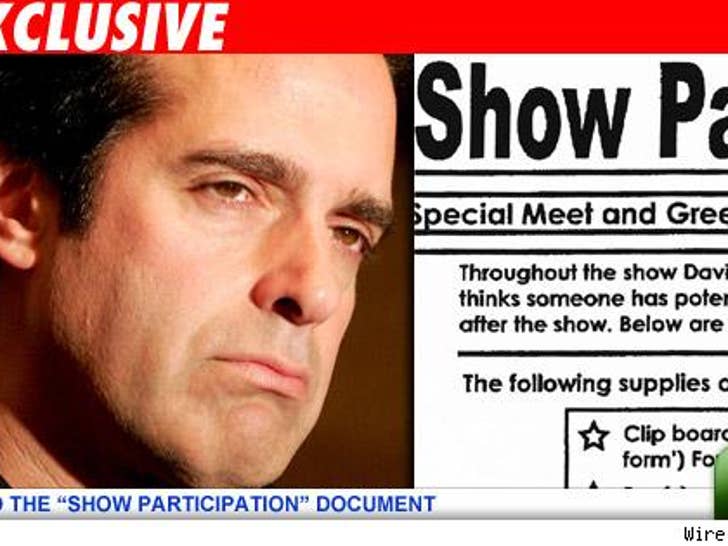 TMZ has obtained portions of a secret document from David Copperfield's shows, outlining in extreme detail how the magician's assistants were supposed to rope in the women that David found attractive -- and hold their boyfriends and husbands at bay.
The document, titled "Show Participation," requires the people who work David's shows to arm themselves with clipboards, a Polaroid camera, a digital camera, brochures of David's islands in the Bahamas and "Blank photo(s) of David (if one of the girls is a scorpion)." "Scorpion" refers to women David brings onstage as part of his act.
The document describes how the assistants need to be heads-up for attractive women whom David can meet backstage after the performance. We're told the plan is to keep boyfriends and husband in the arena, adding "from time to time, boyfriends and husbands will give us a hard time and refuse to stay. If that is the case, try your best to get them to stay and refer to the "What to Say" sheet for help."
According to the document, "On occasion David will have you pull in both scorpions even if he is only interested in one of them, just for comfort."
But wait -- it gets worse. The assistants are told to sell the women before David arrives backstage. They're supposed to say: "Do you know that David has recently bought some islands in the Bahamas? Well they are BEAUTIFUL and we are doing a lot of project (sic) for these islands: Ads, TV, Radio and many other promotions. So we like (sic) to keep in touch with you in case there is a job in the future we think you would be interested in."
According to the document, the women are then supposed to fill out a questionnaire -- "Where are you from... What hotel are you staying in. How long are you in town. Who did you come to the show with? Husband? Boyfriend? Friend?"
David has been under investigation, after a woman who was in the audience claims he flew her to the Bahamas and allegedly raped her. He denies it.