"Dancing" -- The Curse Of Tom Bergeron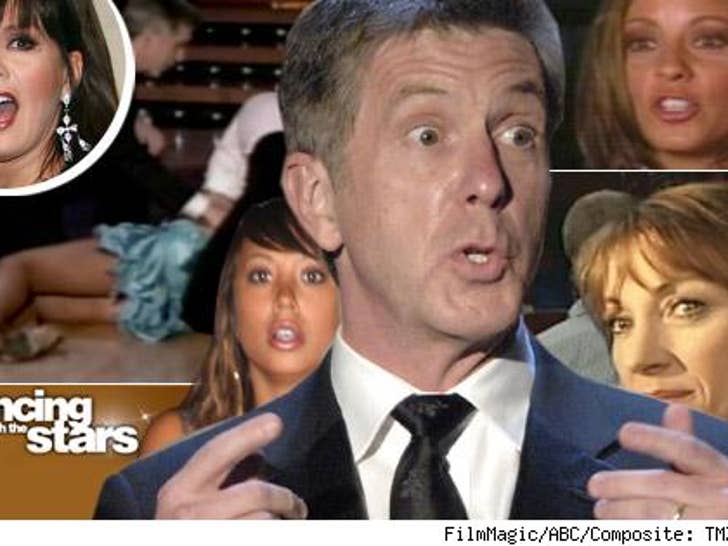 Is there a "Dancing With the Stars" curse? Tragedy seems to have befallen several cast members recently

Just last week Marie Osmond infamously fainted during a live broadcast last month, and today word came that she sadly lost her father, George Osmond, patriarch of the singing Osmond clan. And Jane Seymour's mother passed away last month.
These unfortunate incidents are just a few of the woes faced by these women since joining the show, Jane also had to skip an episode due to food poisoning and very nearly lost her home in the Malibu fires last month.
Marie and Jane haven't been the only ones to endure The Curse: Sara Evans left the show during a painful divorce, Stacy Keibler suffered a seizure while promoting the show and -- worst of all -- the unfortunate bout of tanorexia suffered by "Dancing" staple Cheryl Burke.
Make it stop, Tom Bergeron!
Star Slaps Back -- No, You Did NOT Pay Me!
UPDATE: TMZ spoke to Star's manager who laid it out for us, on the record. According to her manager, this was a straightforward business agreement for Star to speak at the Health and Beauty Expo -- nothing more. The contract was breached, so Star did not appear. Had Star known she would be speaking for charity, her fee would have been substantially reduced or eliminated and she would have been there to speak.
Star Jones is giving the big girls she allegedly dissed in Detroit a big fat you-know-what, saying that they were the ones who breached the contract, not her. And yesterday, on her Court TV show, she called allegations that she bailed out of her appearance "a nasty shakedown."
In a lengthy dossier including her own blow-by-blow of what went down with Full and Fabulous, Star says that though she got $10,000 from the group before her scheduled performance, she never got $15K more that she was owed. What's more, Star claims that she didn't get "the level" hotel that she requested when she went to stay in Detroit, nor was any ground transportation provided.
Star says that she and husband Al Reynolds paid for their Super Bowl weekend "at our own expense" and that she's still never received any loot for the
Dog's Other Son -- Dad's Not a Racist!
One kid sold him out, but another of Duane "Dog" Chapman's pups tells TMZ that the bounty hunter is not a racist.
TMZ got an exclusive interview with Dog's oldest son, Christopher -- one of Duane's litter of nine -- who defends his dad regardless of the hate-filled rant. Dog Chapman came under fire last week after an N-word tirade was leaked to the National Enquirer by another son, Tucker
For more of the interview with Christopher, watch TMZ TV tonight. Check local listings.
For once, the largest, roundest, protrusion on Jennifer Lopez's body isn't her ass!

Clad in a tent dress and looking mommalicious, the 38-year-old former Fly Girl revealed a glimpse of her growing wombmate at a Miami baseball game on Monday.
While everyone and their tour outfit designer has confirmed her pregnancy, Jennifer officially continues to keep mum on becoming a mom. But the muumuus don't lie!