DEA Agent Busts New Denzel Movie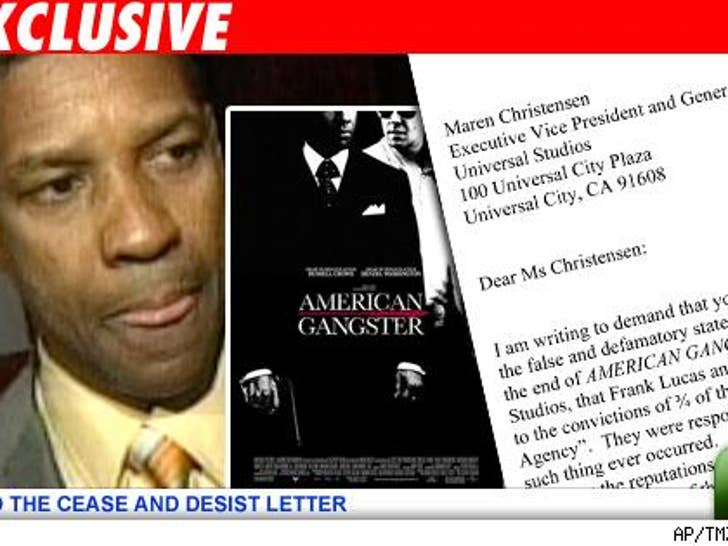 New York City Drug Enforcement agents are unhappy with the way they are depicted in Denzel Washington's new movie, "American Gangster," and now one of them is threatening legal action against Universal for what he claims are "false and defamatory statements."

TMZ has obtained a cease and desist letter sent by Dominic Amorosa, attorney for Gregory Korniloff, to the General Counsel of NBC Universal, and cc'd to the President of the studio.
NBC Universal did not respond to requests for comment.
Korniloff is a retired NYC DEA agent, who is demanding a retraction of statements made in the movie. The letter claims that the movie, which portrays the life of Frank Lucas (Denzel), a Harlem heroin dealer in the '60s and '70s, incorrectly states that a third of NY DEA agents were convicted on charges related to Lucas. In addition, the letter alleges that several alleged facts in the movie are misleading, including heroin being smuggled in coffins, and the amount of money taken from Lucas' home during a raid.
Korniloff was the case agent for the DEA and "personally participated in the search of Lucas' house ... and the arrest of Lucas on that same day." Korniloff's lawyer says the way the movie portrays that search "destroys the reputation of honest and courageous public servants by deliberately misrepresenting the facts."