Aussies to Adam -- You Stole Our "Gay" Firemen Flick!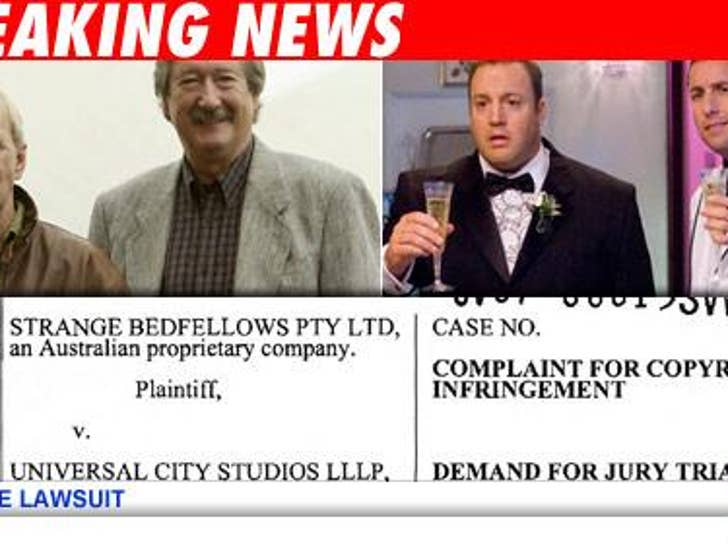 Think it's a coincidence that just in the last four years, a pair of movies about a pair of firemen who pretend to be gay popped up in cinemas? Not bloody likely, mate -- at least according to a new lawsuit.

In the suit, obtained by TMZ, Aussie film outfit Strange Bedfellows Pty Ltd. allege that the 2007 Adam Sandler-Kevin James comedy "I Now Pronounce You Chuck and Larry" was ripped off from their own faux-gay-fireman movie, "Strange Bedfellows." That movie, starring Paul Hogan and Michael Caton, came out in 2004, and was the highest-grossing movie in Oz that year.
But you'll never guess who allegedly made the bridge between Crocodile Dundee and Billy Madison. Did you say Deuce Bigalow?
According to the papers, Rob Schneider got a copy of "Strange Bedfellows," and gave it to Adam Sandler, who then turned around and made "Chuck and Larry." The Aussie company alleges that Sandler's company Happy Madison Productions have "continuously infringed [Bedfellows'] copyright by distributing, selling, producing, and claiming authorship" over "Chuck and Larry."
As it happens, "Chuck and Larry" grossed $120 million in the U.S., while "Bedfellows" did about $4.2 million (U.S.) in its native land. The suit seeks unspecified damages.
Happy Madison Productions didn't immediately return a call for comment.