The Face of Jacko -- It's Bad!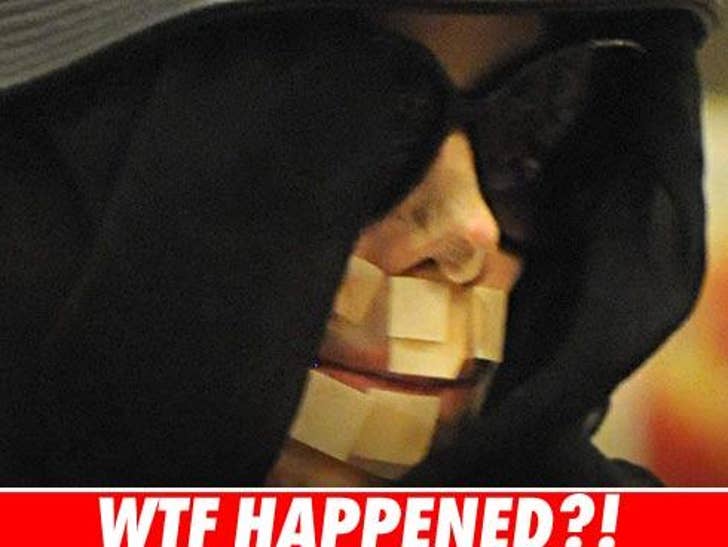 Looking like a character from "Star Wars," a wrapped and bandaged Michael Jackson haunted a Las Vegas bookstore over the weekend. The funk of 40,000 years!

The mummyish 49-year-old former King of Pop hit up a Barnes & Noble with his three kids -- and it seems
he may have come fresh from a surgeon's office -- in Iraq! Leave me alone! Jacko's disintegrating face made headlines a few years ago, when he was seen in court -- with a nose that appeared to be falling off. Makes me want to scream!
TMZ is awaiting a response from Jackson's rep regarding the bandages. It's unknown if Michael was able to speak.
Donda West -- The 911 Call
TMZ has obtained the just over eight minute 911 phone call made the day Donda West died. At one point, one woman is clearly overwhelmed and begins hyperventilating as the 911 dispatcher attempts to give instructions on how to perform CPR.

Warning: the content is graphic.

West died last month after undergoing several cosmetic surgery procedures by Dr. Jan Adams. The coroner has performed an autopsy, results are still pending.
Bill Clinton's Secret Service: Screw You!
An autograph hound outside of Nobu in NYC just happened to have a copy of former President Clinton's book, and repeatedly begged the dapper ex prez to sign it as he left the fish house.
Watch the footage -- Bill finally tells one of his Secret Service dudes to grab the book -- the autograph hound says, "Is he gonna sign it?" The edgy Secret Service dude says, "No."
Listen to the ink seeker's reaction. Priceless. We're told Clinton did sign the book.
Ryan Seacrest: Primps His Ride
Metrosexual poster boy Ryan Seacrest nearly chipped a nail while fixing a flat tire on Saturday. From flatiron to tire iron!

After a treacherous day of holiday shopping at The Grove mall in L.A., Ryan noticed the flat and wasted no time getting his manicured hands dirty. He's better than Jiffy Lube!
Appears as if Ryan has no problem checking under the hood.