The Hoff and Wife Work It Out!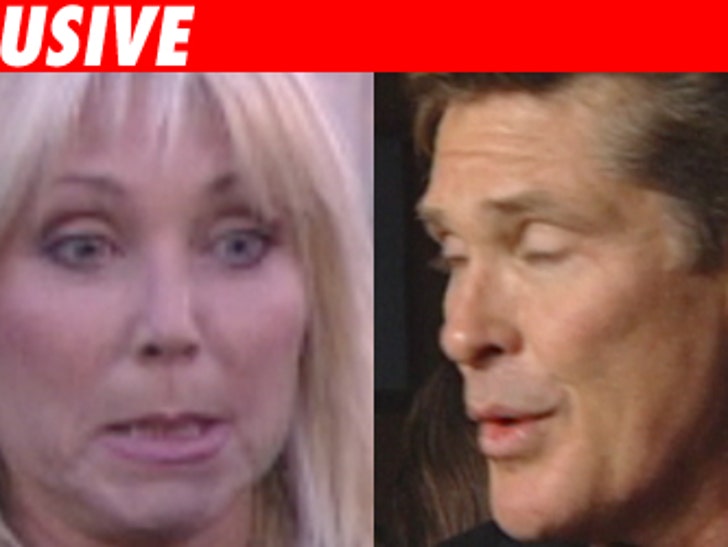 TMZ has learned David Hasselhoff and ex-wife Pamela Bach have finally reached a deal on the financial issues and division of assets in their divorce. Long time coming!

We're told the couple and their lawyers met last Friday and hammered out a settlement in a meeting that lasted well into the evening. As part of the deal, they will share 50/50 custody of daughters Taylor and Hayley. They also reached an agreement on spousal and child support, but those terms were not disclosed.
The couple's Encino, Calif. home will be put on the market. David had allowed Pamela to live there after she was ordered to move out, but they have now agreed to sell the property.
UPDATE: TMZ has learned the Hoff is on vacation in Hawaii, soaking up the rays. We're told his daughters will be joining him after they spend Christmas with his ex-wife. As for settlement, David issued the following statement to TMZ "I'm pleased that everything is resolved and I am very proud of my daughters who have remained strong and exhibited dignity during this very difficult time. We are all moving on."
UPDATE: A rep Pamela released the following statement: "Although Pamela has been working hard to put this divorce behind her and moving on, since David was unavailable to attend Friday's conference meeting, an agreement was not signed. Despite published reports, a settlement has not been reached nor finalized. Once David returns from vacation and elects to attend the next scheduled meeting -- which to date, he has not been present at any -- a settlement may be reached. As usual, Pamela's top priority is being a full-time mom to their girls."