Kat Von D -- Next Mel Gibson?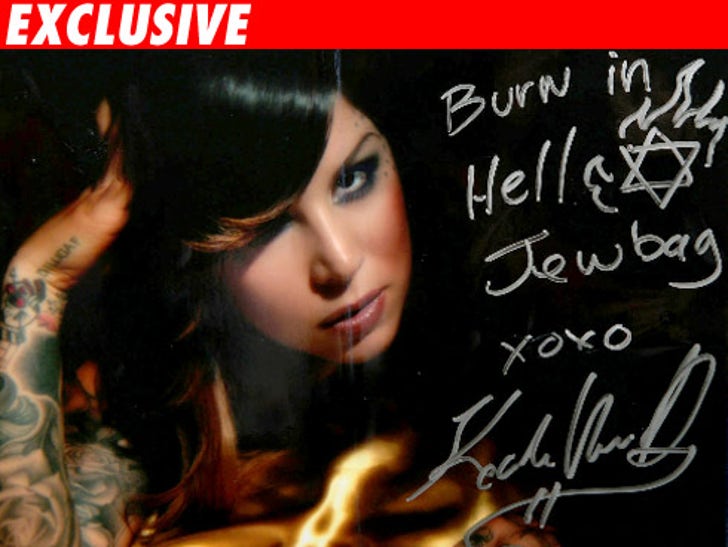 Upon being fired from "Miami Ink" last year, tattoo artist Kat Von D allegedly signed a photograph addressed to her former boss, Ami James, and drew a swastika and a flaming Star of David on it. Subtle, no?
TMZ has obtained the photograph in question, a headshot of Kat that reads, "Burn in hell Jewbag." No one witnessed Kat write the message, but Chris Garver, another tattoo artist on "Miami Ink," tells TMZ Kat personally handed him the photo.
When Ami, who is Jewish, received the photo, sources tell us he went to TLC and was rebuffed. We're told after Ami had a lawyer intervene, TLC went to a handwriting analyst who concluded "there is a 99% probability that Kat Von D" wrote the message. In early July 2007, Avi's lawyer went to TLC with the analysis. They simply sent him a letter back that acknowledged receiving the results and said, "We trust that this information will be kept strictly confidential."
Kat's spinoff show, "LA Ink," premiered a month later.
When contacted about the photo, Ami told TMZ he wasn't as offended by the photo as he was by the indifference toward it, saying, "What is more devastating to me, and much more shameful is when people ignore something like this for the sake of the money or self-interest. That is the real 'punch in the gut.'"
TLC gave TMZ this statement: "A publicity photo was brought to the network's attention eight months ago that contained extraordinarily offensive language. A full investigation was immediately conducted to determine whether anyone associated with the network was involved. Kat vehemently denied authoring the text and after completing the investigation, it was determined that insufficient evidence existed to conclude that she had. Therefore, no disciplinary action was taken. The network always takes these matters seriously and follows what we believe to be an appropriate course of action as dictated by the circumstances and available information."
Kat's personal publicist issued this statement: "The recent accusation of a publicity photo of me with offensive and anti-semitic comments and graphics allegedly written by me is completely false and unfounded, and clearly a forgery. This was already proven many months ago to be 100 percent untrue. I always have been, and will continue to be an advocate for tolerance of all races, religions and ways of life."