"Idol" Kids Feuding Like Cats and Dogs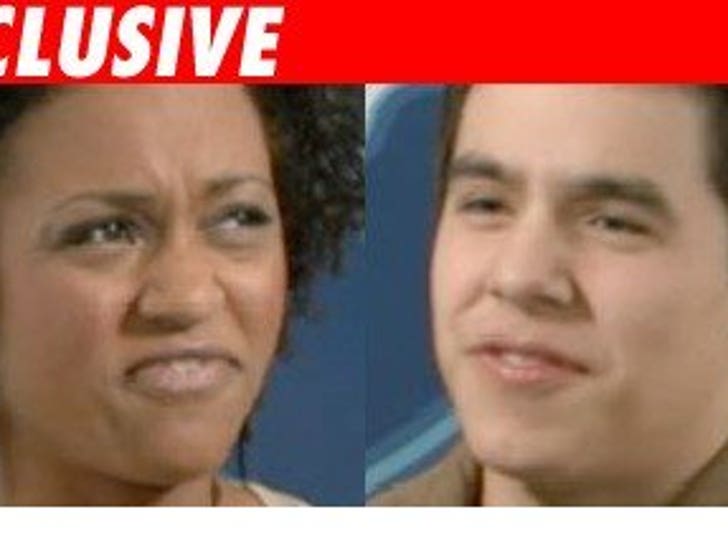 We have spies -- of course we do -- inside "American Idol," and things between the contestants have gotten ugly from the get go.

At least one of the female contestants has taken cheap, Imus shots at Syesha Mercado, calling her hair "nappy," among other insults -- behind her back. Nice.
And the guys were ganging up against 17-year-old David Archuleta, making snarky remarks, again, behind his back. But who can blame them? Our sources say record execs at 19 Entertainment have already been in touch with top record publishers in Hollywood, and the word has already been sent out to songwriters to write this kid some tunes.
It's Mister King, If You're Nasty
Looking confused as ever, Larry King took some dancing lessons from Janet Jackson last night -- and it's every bit as incredible as you think.

Thank the God of Areolas there were no wardrobe malfunctions.
Katherine Heigl clearly needs all the decorating help she can get, judging by the chandelier she just bought. What to do?? T.R. Knight to the rescue!

Check out the story from TMZ TV and check your local listings for show times.
The One Question No One Should Ask Vanna
Faced with far too much face time and no clue what to ask her, one TMZ photog asked Vanna White, yes, you guessed it: "Can I buy a vowel?" The questions only got worse from there.

Not that Vanna has so much to say in any case, but what would you ask her if given the chance?

Landlord to Brit: Pay Your Rent, Bitch!
As if Britney hasn't had enough tsuris, her Malibu landlord tried evicting her this month.

TMZ has seen documents sent to the official lessee for Brit -- Love Shack Trust. The documents, dated February 14, states that Brit was more than two weeks late in paying her $35,000-a-month rent. A $2,100 late charged kicked in, which was not paid. The documents state that Love Shack must either pay up or "surrender and deliver up possession of said Premises..."
There's an interesting last line in the docs, citing Section 594 of the Penal Code of California: "Every person who maliciously injures or destroys any real or personal property not his own...is guilty of vandalism."
Sources tell us Brit's financial peeps (not Jamie) screwed up but Love Shack is now current on rent and late fees and it's all kumbaya in Malibu.
Ponyboy from "Outsiders": 'Memba Him?!
In the '80s, C.Thomas Howell became a teen heartthrob in movies like "The Outsiders," "Red Dawn," and "The Hitcher." He also donned black face in "Soul Man." Guess what he looks like now!