What the Hell Are the Jacksons Doing Now?!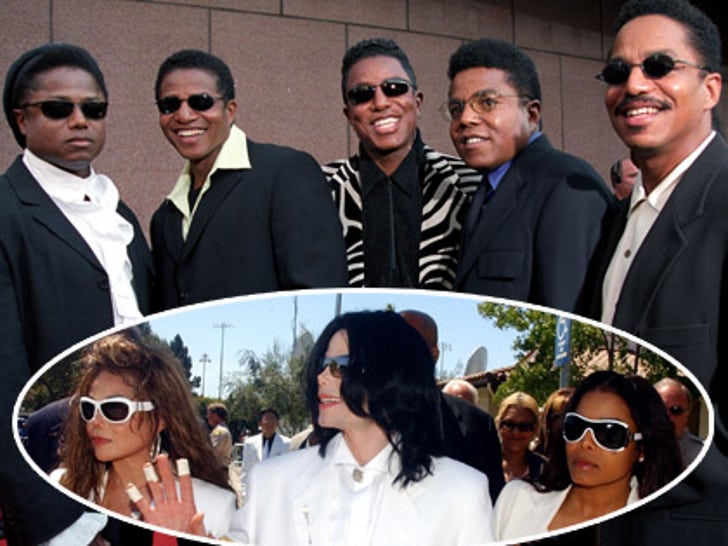 Who knew Motown would lead to skid row? Did you know that the majority of the Jackson family is broke and scrapping for cash -- doing odd jobs like stocking shelves at supermarkets and working on cars to make ends meet?

According to a crazazy report by the New York Post, most of the Jackson clan isn't fairing too well financially -- some of the Jackson boys are even still living at home! Check out a rundown of the current state of events.
Michael is on the verge of losing Neverland ranch as well as the family's Encino, Calif., home. He is currently hiding out in Las Vegas.
Marlon stocks shelves at a Vons supermarket in San Diego, and had to temporarily move into an extended-stay hotel with his wife.
Tito formed a band and plays at small gigs for $500 to $1,500.
Randy does odd jobs for income. He acted as Michael's business manager during the 2005 molestation trial, but ran into problems with friends after he persuaded three people to take out lines of credits against their homes to help Michael pay his attorney fees and Michael stiffed them!
Jackie had a failed Internet clothing business and tries to produce. He still lives at home with his parents.
Jermaine splits time between the parents home and his girlfriend's home. He has more than $5 million in federal, state and other liens against him and a 1995 bankruptcy filing. He does not work and is still involved in a messy, protracted divorce.
Janet is the current breadwinner of the family. She bought her mom a Vegas home in anticipation of losing the family's mansion to foreclosure.
La Toya is all but shunned from the family for declaring Michael guilty during the 1993 molestation case. She earns a living mostly in Europe judging beauty and singing contests. She lives with a wealthy boyfriend in Beverly Hills and has little contact with her siblings.
Rebbie married successful businessman Nathaniel Brown.
Daddy Joe still thinks the Jackson family can get it together, saying, "We can get back out there and set the world on fire. If the Rolling Stones can still rake in the money, so too can my boys." Riiiiight.